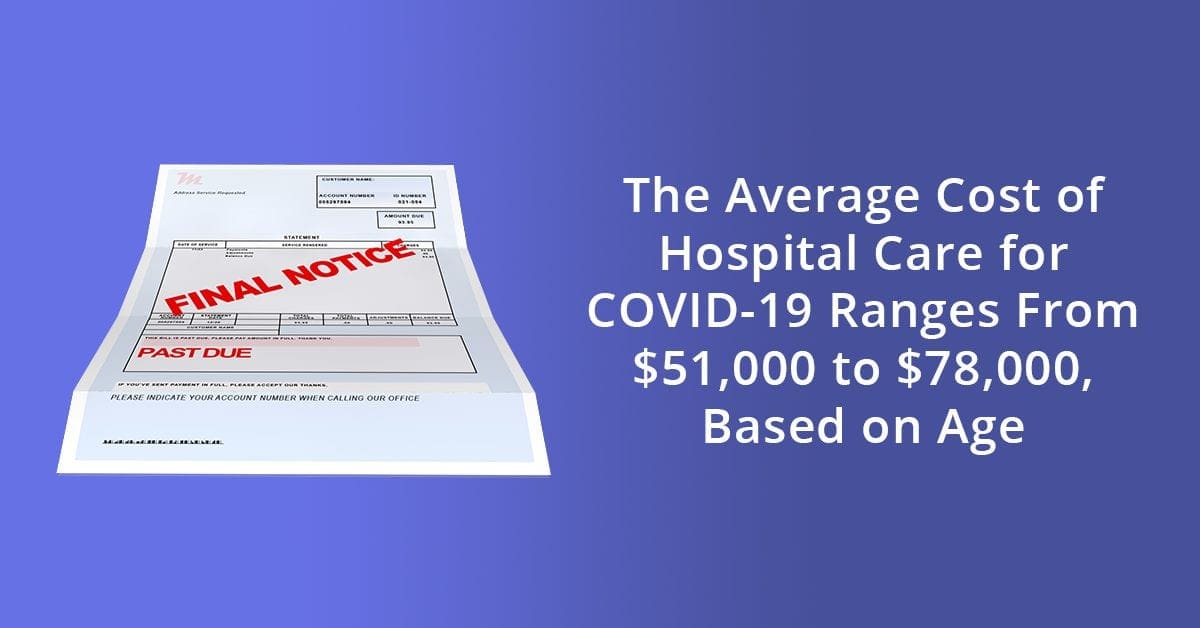 By Mallory Hackett for Healthcare Finance
The average cost of hospital care for COVID-19 patients without insurance or who receive out-of-network care varies greatly by age – from $51,389 for patients between 21- and 40-years-old to $78,569 for patients between 41 and 60 years old, according to updated cost analysis data from FAIR Health.
Hospitalization charges for patients under 20-years-old without insurance averaged about $68,261. For people over 60-years-old, that figure was about $77,323.
The highest averaged allowed amount paid to the provider under an insurance plan was $40,208 for people over 60 and was lowest for patients 21 to 40 at $26,152.
These figures represent a cost analysis from February through August, which is updated from July.
In July, the report showed nationally the median charge amount for COVID-19 inpatient care – for people without insurance or who went out of network – was $45,683 for people aged 51 to 60 and $34,662 for those in the 23 to 30 age bracket.
The July FAIR Health report, in examining private insurance claims associated with COVID-19 diagnoses from the beginning of the year through mid-May showed the highest average allowed amount paid to the provider under an insurance plan was $24,012 for people aged 51 to 60 and, at its lowest, $17,094 for people above age 70.
WHAT'S THE IMPACT?
When one factors in the length of stay, the average hospital charge increased the longer patients were there, and they continued to vary by age group.
Across the board, most patients were hospitalized between one and five days. Uninsured patients between 41 and 60 years old paid the most for their stays in this category, an average of $40,204. Those over 60 paid the least amount of $34,743.
If a patient was hospitalized for six to 10 days, they could expect to pay as little as $89,874 if they were above 60 years old and as much as $155,619 if they are under 20-years-old.
For 11 to 15 day hospital stints, patients under 20 continued to pay more than their counterparts. The average amount for this group was $324,285 compared to $152,388 for patients over 60.
The cost of hospital stays over 15 days jumped significantly, although there were not enough patients under 20 who were hospitalized for this long for FAIR Health to report on. Patients aged 21 to 40 paid the most for these longer hospitalizations, on average paying $980,821. The over 60 age group paid the least – about $460,989.
THE LARGER TREND
Inpatient COVID-19 hospitalizations could cost the U.S. healthcare system between $9.6 billion and $16.9 billion in 2020, according to Avalere.
Commercial payers are expected to bear the majority of those costs, with Avalere projecting they could pay between $5.6 billion and $9.9 billion. Medicare will pay the second largest portion, between $3.5 billion and $6.2 billion, which also includes the treatment of uninsured patients. Federal and state Medicaid payments are expected to range from $440 million to $780 million.
The cost of hospitalizations, on top of any other required treatments for COVID-19, could total $546.6 billion for payers.