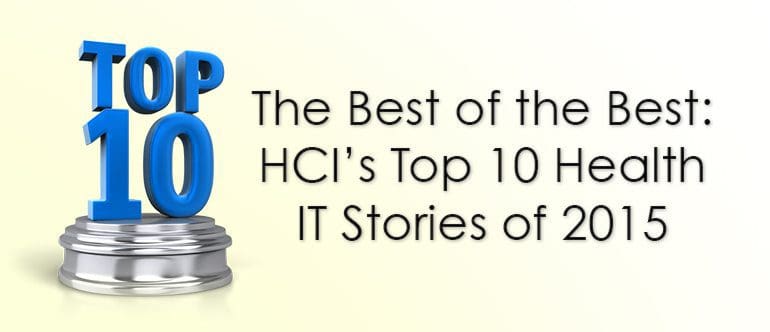 By the Editors of HCI for Healthcare Informatics
Not surprisingly, it was another big year in the world of health IT, mixed with positive developments and unsettling trends. Last week, HCI Editor-in-Chief Mark Hagland looked at the seven significant things we learned this year, and social media manager Megan Combs parsed through the analytics and found the top 15 articles, news stories and blogs from 2015 on Twitter (@HCInformatics).
Today, upon review and collaboration among Healthcare Informatics' editorial team, we give you what we thought were the 10 biggest stories from the year that was. While it's extremely difficult to rank these significant developments in importance since they all struck the industry in an impactful way, our team gave it a shot. Here's the list, in order of importance, as decided internally:
Congress Passes SGR Repeal Legislation, Ushers in New Era in MD Value-Based Payment: On April 14, the U.S. Senate passed legislation ending the Sustainable Growth Rate (SGR) formula whose problematic history has plagued Medicare physician payment issues for over a decade, as it approved the Medicare and CHIP Reauthorization Act (MACRA). The bill was signed into law by President Obama two days later. The legislation will replace physicians' mandatory participation in the Value-Based Payment Program under Medicare (for all physicians participating in Medicare) with a new Merit-based Incentive Payment System, or "MIPS," to be applied to payments beginning Jan. 1, 2019. As Healthcare Informatics' analysis of the legislation noted, it targets four key areas: quality, resource use, clinical practice improvement (including care coordination and improvement activities), and the meaningful use of electronic health record (EHR) technology.
Population Health Continued Developments:  There isn't one single story that can sum up the population health era that the industry is quickly heading into, but the topic has generated enough buzz to land on the cover of two HCI magazine issues this year—the May/June issue and the September/October one. In the first cover story, Mark Hagland takes a deep dive in the population health journey ahead; in the more recent cover piece, Hagland looks at how medical group leaders have been moving forward on all the challenges inherent in population health initiatives.
CMS Releases Final Meaningful Use Program Rules: After weeks of speculation about when the meaningful use Stage 2 modifications and Stage 3 final rules would be published, the Centers for Medicare & Medicaid Services (CMS) released both rules together in a 752-page document on Oct. 6. Most health IT leaders responded to the rules with cautious optimism, and many further believed that the required start date of 2018 for Stage 3 is too soon. As the industry has had more time to digest the rulings, many have indeed called for an extended Stage 3 timeframe. Stakeholder comments regarding the Stage 3 final rule were due to CMS on Dec. 15.
ICD-10 Two Months In: For Providers, a Transition that Finally Came (and Went): For many patient care organizations nationwide, there was much concern leading up to the ICD-10 implementation deadline of Oct. 1, 2015. Indeed, since CMS delayed the deadline for the transition to the new coding set three times previously, providers were justly unsure if all of their preparation and resources put into the conversion would go for naught once again. Nonetheless, the implementation deadline was not moved and the industry made it through Oct. 1 sans disaster.
Cerner/Leidos-Led Team Wins DoD EHR Contract: In July, it was announced that the winner of the U.S. Department of Defense (DoD) massive Department of Defense Healthcare Management Systems Modernization (DHMSM) EHR contract was a team headed by the Kansas-City based EHR vendor Cerner Corp, surprising many industry analysts and experts who were predicting that the Epic team would win the bid. The new contract will cover more than 9.5 million Defense Department beneficiaries; the cost over 18 years will approximately be in the $9 million to $11 million range.
Healthcare Industry Will Remain a Top Target for Data Breaches in 2016: Healthcare companies will continue to be one of the most targeted sectors by cybercriminals in 2016 due to the high value of compromised data and the ongoing digitization of medical records, according to a recent Experian report. This report comes at the end of a year which saw several major data breaches at healthcare organizations such as UCLA Health, Anthem, and Excellus Blue Cross Blue Shield, affecting millions of patients' records.
Glass Half-Empty, Half-Full, or Opaque? CMS Spins the New ACO Numbers: In August, CMS released updated results from Medicare's two main accountable care organization (ACO) programs, the Medicare Shared Savings Program (MSSP) for ACOs, and the Pioneer ACO Program. It was fascinating because of the way in which senior CMS officials apparently decided to try to "spin" the numbers in the most positive way possible, to the point where the agency seemed to have purposely obfuscated some of the numbers, wrote Mark Hagland in his analysis of the announcement.
ONC Releases Final Federal Health IT Strategic Plan: In September, the Office of the National Coordinator for Health Information Technology (ONC) released its final Federal Health IT Strategic Plan with a focus on improving the health and well-being of individuals and communities, rather than the adoption of IT systems. The plan, spanning from 2015-2020, identifies the federal government's health IT priorities, which aim to expedite high-quality, accurate, secure, and relevant electronic health information for stakeholders across the nation.
IBM to Acquire Merge Healthcare for $1B: The Armonk, N.Y.-based IBM made a big move in the area of advanced image analytics in August, announcing that it acquired the Chicago-based Merge Healthcare, a provider of software for managing and processing medical images, for $1 billion. Merge's technology platforms are used at more than 7,500 U.S. healthcare sites, as well as at leading clinical research institutes and pharmaceutical firms around the world to manage a growing body of medical images.
The Healthcare Informatics 100: Our Annual Ranking of Healthcare IT Vendors: Once again, as in past years, we, the editors of Healthcare Informatics, presented the newest edition of our unique industry offering: the Healthcare Informatics 100, a compilation of the top health IT companies based on HIT revenues from the most recent fiscal year. This year, we had a new top HIT revenue company, the Eden Prairie, Minn.-based Optum, which checked in with a health IT revenue of $5,227,000,000.