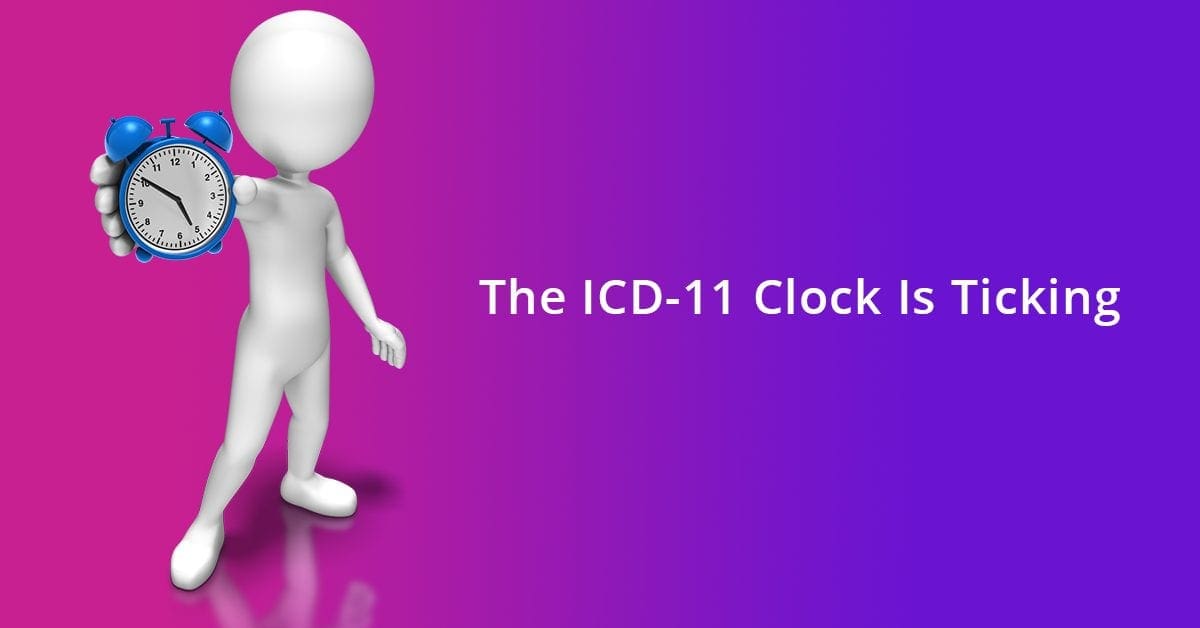 By Selena Chavis for For the Record
Is it time for health care organizations to start thinking about it?
On the ICD-11 front, two significant milestones occurred last year: The World Health Organization (WHO) officially released the 11th edition of the International Classification of Diseases (ICD-11) and the World Health Assembly formally adopted ICD-11. Now the big question is, "What does that mean for the US health care system?"
In truth, the mere thought of a new ICD implementation is enough to send HIM professionals running for the hills, according Susan Gatehouse, CEO of Axea Solutions. "It would be a fair assessment to say that there are still those in the industry that haven't fully recovered from the ICD-10 transition, especially in the realm of coder training, so understandably the idea of ICD-11 has some feeling a bit uneasy," she says. "However, recalling the tedious process of implementing ICD-10 is excellent motivation to prompt the industry into seriously thinking about and planning for ICD-11 sooner rather than later."
The earliest any country can begin using the new code set is January 1, 2022, although Gatehouse notes that there is speculation that it may take longer in the United States because of the way the health care system captures mortality and morbidity. A report from the National Center for Health Statistics states it will take at least five years to implement ICD-11 for Mortality and Morbidity Statistics for mortality reporting in the United States, and the implementation for ICD-11 for morbidity might take even longer.
"It is anticipated that the transition period from the implementation period will last between two and three years to the final implementation of ICD-11," Gatehouse says.
And while that places US implementation in the mid to late 2020s, Susan McGrogan, president of Coding Services Group, suggests that now is a great time to start thinking about and understanding the possible impacts to the industry. "Individuals should keep abreast of any updates and join ICD-11 committees and discussions within their professional associations to initiate networking and brainstorming," she notes. "It is better for the industry to be prepared and not anticipate major delays as we have historically experienced."
Why Should ICD-11 Be Embraced?
One of the key differentiators of ICD-11, according to Gatehouse, is that it is the first ICD revision designed for use in today's electronic environment. "This 11th revision is the result of a unique collaboration with clinicians, statisticians, and classification and IT experts from around the world. ICD-11 allows countries to count and identify their most pressing health issues by using a current and clinically relevant classification system," she says.
For the first time, ICD will be entirely electronic and easy to install. The expectation is that new classification in ICD-11 will allow providers to build the codes that will accurately describe the conditions they are treating for billing purposes, even if they still select an "unspecified" code, Gatehouse explains, emphasizing that the fact that it will be EHR compatible is even more important, making its implementation easier and, most likely, less time consuming and labor intensive than ICD-10.
Sandy Brewton, RHIT, CCS, CICA, CHCA, CPC, an AHIMA-approved ICD-10-CM/PCS trainer and senior health care consultant with Panacea, says that the specificity of ICD-11 meets the expectations that she had of ICD-10, offering new opportunities for impacting patient care and outcomes. In addition, many industry experts believe that the implementation would not require a separate US modification, which was a necessary undertaking for previous ICD implementations.
"Historically, the US has always taken the code set, and we've made our own clinical modification that no one else uses. It's just specific to the United States, and ICD-10 is like that as well," Brewton says. "So, at that point, we're all using the same code system globally. Add interoperability into the equation, and then it becomes easier to track and improve global statistics and health trends and clinical research around issues of global concern."
McGrogan agrees, adding that if the United States were to implement ICD-11 within a close proximity of the other WHO members, the health care system would be able to start comparing apples to apples from a statistical perspective. "Coding at a greater specificity allows for more efficient and timely research," she says. "Imagine being able to pull a list of codes for a specific disease and correlate comorbidities without the deeper, more time-consuming dive into the medical record. This could have a momentous impact to health care internationally, as we can identify key factors in specific disease processes."
Coding: What We Know Now
In its present form, ICD-11 contains 55,000 codes, a hefty hike over the 14,400 found in ICD-10. The sheer specificity of the new code set will be a game changer for coding and patient care, Brewton says. "In my mind, the specificity of ICD-11 is very much like the Systematized Nomenclature of Medicine—Clinical Terms (SNOMED CT). It's got the hierarchies … and it just gets super specific," she says.
Brewton points out hypertension as an example. While ICD-10 includes codes for essential hypertension, ICD-11 expands to encompass codes that cover combined diastolic and systolic, isolated diastolic, isolated systolic, and other specified essential. "If you just glance at it, you can see a huge difference with hypertension alone," Brewton says. "Hypertension is one of those codes that any coder is going to look at and say, 'Wow, look at that!' because almost all of us use hypertension codes."
As coding continues to provide granularity of data moving from ICD-10 to ICD-11, Gatehouse notes that the industry should not expect HIM processes to become more simplified. That said, she points to the opportunities to leverage advancements in technology and automation to continue to streamline and improve the coding process.
"Indeed, the overall coding improvements in ICD-11 will provide more precise and more detailed data recording and collection," Gatehouse suggests.
Other changes for coders to consider include an increase in the number of chapters in ICD-11, and codes sporting four characters before the decimal point, compared with the three currently being used in ICD-10.
One of the new chapters is traditional medicine. Although millions of people use traditional medicine worldwide, it has never been classified in this system. A new chapter on sexual health brings together conditions that were previously categorized in other ways (for example, gender incongruence was listed under mental health conditions) or described differently. Gaming disorder has been added to the section on addictive disorders.
In a press release, WHO says that ICD-11 also reflects progress in medicine and advances in scientific understanding. For example, the codes relating to antimicrobial resistance are more closely in line with the Global Antimicrobial Resistance Surveillance System.
In addition, ICD-11 can better capture data regarding health care safety, which means that unnecessary events that may harm health, such as unsafe workflows in hospitals, can be identified and reduced.
Cause for Trepidation?
Memories of alarm bells ringing loudly across the industry during the transition to ICD-10 have many professionals wondering whether there will be a repeat of the angst leading up to an ICD-11 go-live. There's no reason to fret, Brewton believes.
Likening the industry's response to that of Y2K at the turn of the century, she believes too big of a deal was made about the transition to ICD-10.
"There was a lot of money to be made, and the bigger the hype, the more money people were willing to invest," Brewton says. "When I started doing education boot camps for ICD-10, I tried to tone it down some. We are still using [ICD] the same; we're still finding the conditions the same. Now some of the rules have changed, and some of the definitions have changed, and that's a challenge for sure."
Yet, with any major change, McGrogan acknowledges that some trepidation is to be expected. "The US transitioned to ICD-10 years after other countries. This allowed for us to use lessons learned such as go-live planning, budget implications, and reduction in productivity," she says. "The difficulty in transition was the fact the US is the only country that utilizes coding for reimbursement purposes. This is what caused the greatest unknown to our health care system."
ICD-11 will be a bit of a different story, McGrogan says, noting that the introduction of the code set will be new to all WHO members. "If the US transitions without any major time delays, we will still have the ICD-10 transition in our minds and be able to leverage our lessons learned to make it a smoother process," she says.
Gatehouse believes that it's unlikely that hospitals will experience the same challenges as they did with ICD-10. "As one might say, we have already conquered the mountain. Now, it is simply time for some trail maintenance and reconstruction to extend our pathway," she says. "ICD-11 was built to be used electronically, which is a game-changer in the US, and should significantly improve efficiencies."
Gatehouse adds that the insight gained during the ICD-10 implementation should prove helpful whenever the industry is tasked with taking it a step further. "I would recommend testing using real data long in advance. And most important, implement systematic, consistent coder training," she suggests.
Next Steps
Is it time for health care organizations to start taking action? Industry professionals say it's never too soon.
"Don't procrastinate—if you wait until implementation, it may be too late and could result in costly corrective actions," Gatehouse says.
At a minimum, health care organizations should identify someone to monitor industry updates around ICD-11 and keep management informed, even if it's only on an annual basis, Brewton says. "I think once a year is enough because there is really not that much happening. The code sets are there on [the WHO] website, and you can check it out and play around with it," she says. "The [national committees] have their roundtable experts, and they are talking about things. They are even throwing out implementation dates, but they are so vague."
McGrogan says HIM professionals should be introducing the topic to upper management. For example, health care organizations need to consider what ICD-11 will introduce in terms of budget implications, education, and software enhancements. "Organizations should make sure they keep their list of systems and applications that contain ICD-10 codes up to date and initiate conversations with the IT vendors regarding ICD-11," McGrogan says.
With a nearly 30% increase of codes impacting all specialties, Gatehouse believes that it is vital for coding managers and HIM professionals to start exposing coding and clinical documentation staff to some ICD-11 concepts to establish a degree of comfort and familiarity as the industry moves closer to the implementation date.
"Managers must start to become familiar with new ICD-11 codes and chapters, and propose a training plan," she says. "For a coding manager, knowledge and communication are critical to success. Ultimately, it's the coding manager's job to educate executive-level management on ICD-11 changes and requirements, so it's essential to stay at the forefront of updates and to approach changes, utilizing all resources available."
Training will be paramount to address these changes, Gatehouse says. "An organization's historical data are a good indication of where to focus needs in coder training. Training must be well thought out and will require time and effort," she says. "With ICD-10, many hospitals decided to create an internal training program. However, competing initiatives within organizations since ICD-10's implementation have only multiplied. Therefore, training is paramount, and a reassessment of internal training processes will be required to better equip coding departments."
Gatehouse says there continue to be gray areas in certain aspects of ICD-10, which can promote inconsistency within an organization as well as globally. "Considering our current state and the need for continued training in ICD-10, the transition to ICD-11 provides us with a glimpse of training challenges associated with changing classification systems," she says.
Although it may not be time for step-by-step training, McGrogan recommends that health care organizations at least introduce certain aspects of ICD-11, so the fear of the unknown doesn't cause knee-jerk reactions or hasty, poorly informed decisions as deadlines approach.