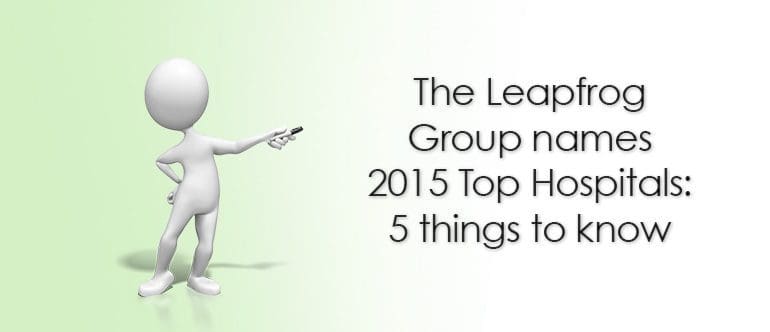 By Shannon Barnet for Becker's Infection Control & Clinical Quality
The Leapfrog Group has recognized 98 hospitals as Top Hospitals on its 2015 list, up from 94 hospitals in 2014 and 90 in 2013. The list recognizes organizations that performed at the highest national levels in quality and safety.
All total, more than 1,600 hospitals reported on quality and safety measures to The Leapfrog Group through the watchdog's annual hospital survey. Highlighted below are five things to know about this year's winners.
1. Of the 98 Top Hospitals, 62 hospitals received recognition in the Top Urban Hospitals category, up from 60 in 2014.
2. Of the nearly 100 hospitals ranked among Leapfrog's top echelons, 12 were recognized as Top Children's Hospitals, three more than last year.
3. Twenty-four rural and critical access hospitals were recognized as Top Rural Hospitals in 2015, down from 25 in 2014.
4. California, Massachusetts and Maine boast the highest number of Top Hospitals. Also noteworthy in 2015 — New Hampshire and Utah have Top Hospitals in their states for the first time
5. Forty-one hospitals became Top Hospitals for the first time in 2015 and 36 hospitals received the honor for the second consecutive year.
"We're honored to recognize hospitals that showcase the best of American healthcare. It takes leadership, teamwork and absolute dedication to patients to achieve this award," said Leah Binder, The Leapfrog Group's president and CEO. "We are also proud of all the hospitals that volunteer to publicly report to Leapfrog, and we've seen amazing growth and improvements in those hospitals."
Click Here for the 2015 Leapfrog Top Hospitals.