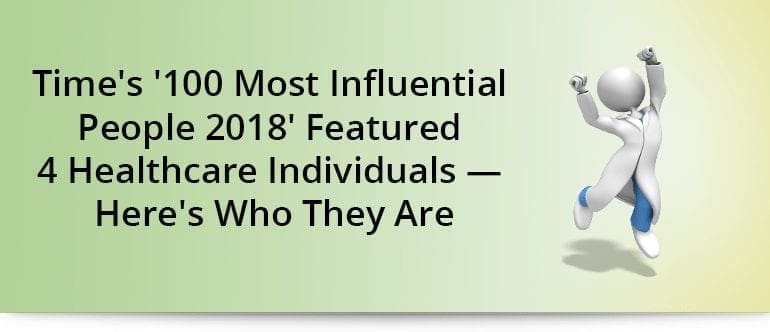 By Alyssa Rege for Becker's Hospital Review
Time released its annual "100 Most Influential People of 2018" April 19, and four healthcare individuals made the cut.
The annual list features influential individuals from various fields, including figures in the entertainment industry, activists, Olympic athletes and business executives.
"The Time 100 is a list of the world's most influential men and women, not its most powerful, though those are not mutually exclusive terms. While power is certain, influence is subtle. As much as this exercise chronicles the achievements of the past year, we also focus on figures whose influence is likely to grow, so we can look around the corner to see what is coming," Time editors wrote.
Here are four healthcare individuals who were among this year's honorees.
Carl June, MD — Dr. June is the Richard W. Vague Professor in Immunotherapy in the department of pathology and laboratory medicine at the Philadelphia-based University of Pennsylvania Perelman School of Medicine. He also serves as director of the Center for Cellular Immunotherapy in the Abramson Cancer Center, and as director of the Parker Institute for Cancer Immunotherapy, according to a news release from Penn Medicine.
Ann McKee, MD — Dr. McKee serves as a professor of neurology and pathology at the Boston University School of Medicine. Her research involves the study of neuropathological alterations of neurodegenerative diseases and the long-term effects of mild traumatic brain injury resulting from contact sports and military service.
Kenneth C. Frazier — As chairman and CEO of Merck, Mr. Frazier has increased the company's investment in research and refocused the organization to further grow and develop innovative lifesaving medicine and vaccines to benefit citizens across the world. He also spearheaded philanthropic and other initiatives to build on the company's more than 125-year legacy.
Giuliano Testa, MD — A board-certified general surgeon, Dr. Testa specializes in living donor liver transplants for adult and pediatric patients as the surgical director of Living Donor Liver Transplantation at the Annette C. and Harold C. Simmons Transplant Institute at Dallas-based Baylor University Medical Center. He completed his medical education in Italy.