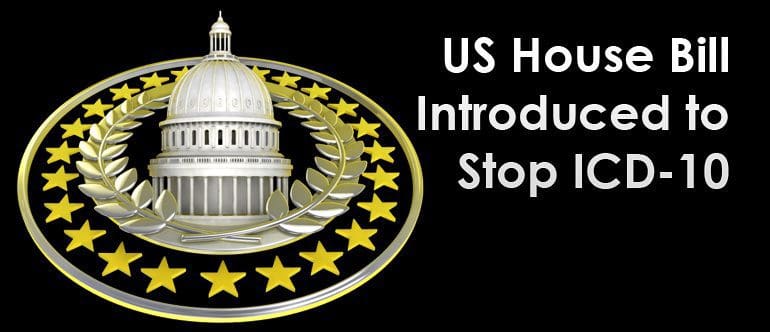 Article by Chris Dimick, Editor-in-chief  at the Journal of AHIMA. This article was originally published on the Journal of AHIMA website on May 4, 2015 and is republished here with permission.
A bill has been introduced into the US House of Representatives that would stop the implementation of ICD-10-CM/PCS.
The bill, H.R. 2126, would "prohibit the Secretary of Health and Human Services from replacing ICD-9 with ICD-10 in implementing the HIPAA code set." Introduced by Rep. Ted Poe (R-TX) on April 30, H.R. 2126 has been referred to the Committee on Energy and Commerce and the Committee on Ways and Means.
Rep. Poe is a long-time opponent of the ICD-10 implementation. In 2013 he introduced a nearly identical bill into the House of Representatives on April 24, 2013, H.R. 1701, that also called for prohibiting HHS from replacing ICD-9 with ICD-10.  That bill failed to gain traction and was never taken up by the referred House committees, according to Congress.gov.
H.R. 2126 is co-sponsored by Rep. Blake Farenthold (R-TX), Rep. Mike D. Rogers (R-AL), Rep. Mo Brooks (R-AL), Morgan H. Griffith (R-VA), Rep. Tom Price (R-GA), and Rep. David P. Roe (R-TN).
AHIMA and the Coalition for ICD-10 have called on ICD-10 supporters to continue their advocacy efforts and contact their representatives and senators to prevent any future delay of ICD-10.