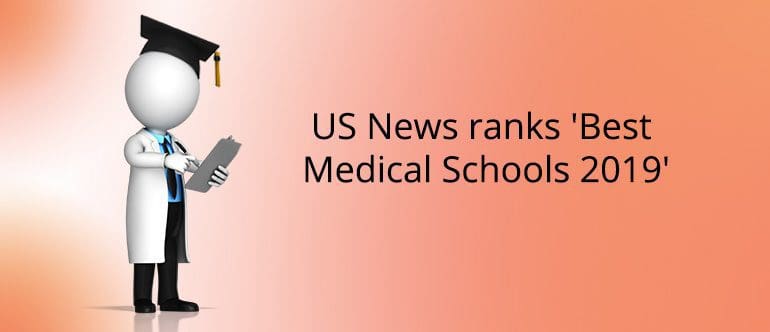 By Alyssa Rege for Becker's Hospital Review
Boston-based Harvard Medical School took the top spot among U.S. News & World Report's "Best Medical Schools" for research for 2019.
U.S. News' rankings for the top medical schools for research and primary care are part of the publication's annual "2019 Best Graduate Schools" lists, which recognize the top institutions for several graduate programs, including business, education, law, engineering, nursing and medicine. The publication also published new rankings this year for graduate programs in other popular disciplines, including biological sciences, chemistry, public affairs, social work and criminology.
Researchers noted this year's list decreased emphasis on medical schools' perceived reputation by 10 percentage points, and added four new factors to measure the amount in nonfederal and non-National Institutes of Health research grant funding institutions received.
Here are the top 10 medical schools for research, including ties, as ranked by U.S. News.
1. Harvard Medical School
2. The Johns Hopkins School of Medicine (Baltimore)
3. NYU School of Medicine (New York City)
3. Stanford (Calif.) University School of Medicine
5. UC San Francisco School of Medicine
6. Mayo Clinic School of Medicine (Rochester, Minn.)
6. Perelman School of Medicine at the University of Pennsylvania (Philadelphia)
8. David Geffen School of Medicine at UCLA (Los Angeles)
8. Washington University School of Medicine in St. Louis
10. Duke University School of Medicine (Durham, N.C.)
Here are the top 10 medical schools for primary care, including ties, as ranked by U.S. News.
1. UNC School of Medicine (Chapel Hill, N.C.)
2. UC San Francisco School of Medicine
3. UW School of Medicine (Seattle)
4. David Geffen School of Medicine at UCLA (Los Angeles)
5. Baylor College of Medicine (Houston)
5. OHSU School of Medicine (Portland, Ore.)
7. University of Michigan Medical School (Ann Arbor)
8. Perelman School of Medicine at the University of Pennsylvania (Philadelphia)
9. University of Colorado School of Medicine (Aurora)
10. UC Davis School of Medicine (Sacramento, Calif.)
10. Washington University School of Medicine in St. Louis