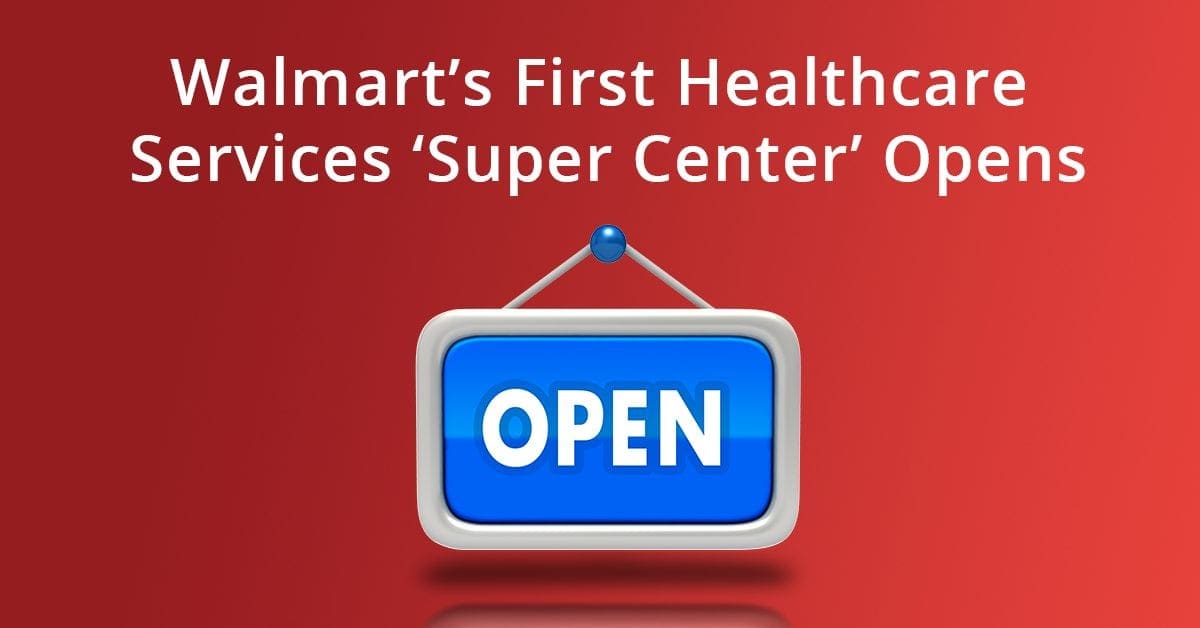 By Bruce Japsen for Forbes
Walmart is opening its first 10,000 square-foot "Walmart Health" center that features an array of primary medical services, dental care, and behavioral health services as part of a new model expected to eventually be replicated in other markets.
The first such "Walmart Health" brand center opened Friday in Dallas, Georgia, as a health facility offering more services than the 19 "Care Clinics" Walmart has already operated elsewhere in Georgia, South Carolina and Texas. Walmart executives say the new Walmart Health center is different than earlier clinics that take up about 1,500 square feet inside the store. The retailer says the Care Clinics remain an important part of their healthcare offerings, but are more limited in service.
"We are creating a super center for basic healthcare services," Sean Slovenski, senior vice president and president of Walmart Health and Wellness said in an interview.
The larger Walmart Health Center puts "key health services under one roof," a first for the world's largest retailer when it comes to offering primary care, dental, optometry, counseling, laboratory tests, X-rays, hearing, wellness education and behavioral health.
Another Walmart Health center like the one in Dallas, Ga. is planned for Calhoun, Ga. early next year. Walmart isn't saying yet whether a national rollout is possible for this model, but Slovenski said the new centers are a "serious" strategy and "not a dabble."
To be sure, retailers like Walmart have tested many different healthcare concepts over the years and not all have taken hold.
But Slovenski said the new center is formalizing services in the same location and builds on relationships with medical care providers that Walmart has already had.
Medical care providers working at the new health centers are either employed or paid via contracts. Physicians and dentists at the Walmart Health center in Dallas, Ga. are providers already in the community.
Walmart's new Georgia location opening comes as rivals CVS Health and Walgreens Boots Alliance push further into outpatient healthcare services through various models. The retailers see 10,000 baby boomers aging into Medicare coverage each day and are also looking to fill emptying space in their brick and mortar stores in the face of changing consumer shopping habits driven by online retail giant Amazon, which is also exploring new ways to get into the healthcare business but has yet to offer face-to-face personalized healthcare services for customers.
This year, CVS has said its new health hub concept store will reach four U.S. metropolitan areas and 50 locations by the end of this year as part of a major expansion. CVS said the HealthHub rollout will grow to 1,500 locations by the end of 2021, or about 500 HealthHubs a year, CVS chief executive officer Larry Merlo told analysts on the company's second quarter earnings call.
Meanwhile, Walgreens is testing various primary care models in markets across the country. Walgreens has a joint venture with the big health insurer Humana, opening senior clinics in certain markets and the drugstore chain has a partnership with UnitedHealth Group's MedExpress urgent care subsidiary that has opened centers that include X-rays and are staffed by physicians with a door connecting to an adjacent Walgreens store.
But Walmart says the new Walmart Health centers aren't designed to increase foot traffic and customer volume into their stores. Slovenski said Walmart has a different approach.
"We are trying to solve problems for our customers," Slovenski said. "We already have the volume. We have the locations and the right people."