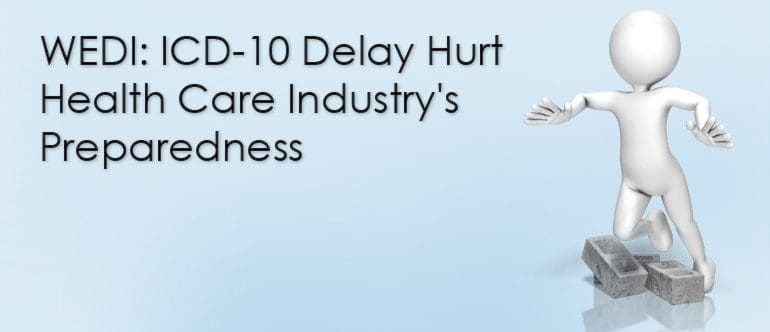 By iHealthBeat
The ICD-10 implementation delay has negatively affected stakeholders' progress preparing for the new code sets, according to a survey by the Workgroup for Electronic Data Interchange, Healthcare IT News reports (McCann, Healthcare IT News, 4/6).
Background
U.S. health care organizations are working to transition from ICD-9 to ICD-10 code sets by Oct. 1 to accommodate codes for new diseases and procedures.
In April 2014, President Obama signed into law legislation (HR 4302) that pushed back the ICD-10 compliance date until at least October 2015.
In July, CMS announced a final rule that established Oct. 1, 2015, as the new ICD-10 compliance deadline for payers and providers still making the transition (iHealthBeat, 2/12).
Survey Details
Since 2009, WEDI has conducted 10 ICD-10 readiness surveys to track stakeholders' preparedness to transition to the new code set. The latest survey results are based on feedback from 1,174 respondents, including:
Findings
Overall, the survey found that progress in preparing for the ICD-10 transition since the last survey in August 2014 varied among stakeholders.
Among health care providers, the survey found:
About two-thirds said they slowed or stopped entirely their transition efforts as a result of the delay;
About 33% said they had completed impact assessments of the ICD-10 transition, down from more than 50% of providers who said they had done so in August 2014;
About 25% said they had started external testing, down from 33% in August 2014;
About 25% said they had tested with Medicare; and
20% said they did not plan to conduct testing with Medicare.
According to the survey, more than 50% of providers cited "uncertainty over future delays" as the most significant barrier to their implementation progress.
Among vendors, the survey found that:
About 60% said their ICD-10 services and software were available or had started to undergo customer testing, down from about 67% in August 2014; and
25% said their updated products would not be available until the second or third quarter of 2015.
In addition to uncertainty over further delays, vendors cited customer readiness and competing priorities as barriers to preparing for ICD-10.
Meanwhile, the survey found that health plans reported better progress, compared with providers and vendors. For example:
80% of health plans said they had started internal testing, with 40% reporting they had completed the testing; and
More than 50% said they had started external testing.
The most significant obstacle to preparing for ICD-10 coding transition among health plans was competing priorities, according to the survey.
Comments on Findings
In a letter sent to HHS Secretary Sylvia Mathews Burwell, former WEDI Chair Jim Daley wrote, "Unless all industry segments make a dedicated effort to continue to move forward with their implementation efforts, there will be significant disruption on Oct. 1, 2015" (Healthcare IT News, 4/6).
Daley added, "While the delay provided more time for the transition to ICD-10, many organizations did not take full advantage of this additional time and many providers are falling further behind" (Clinical Innovation & Technology, 4/6).