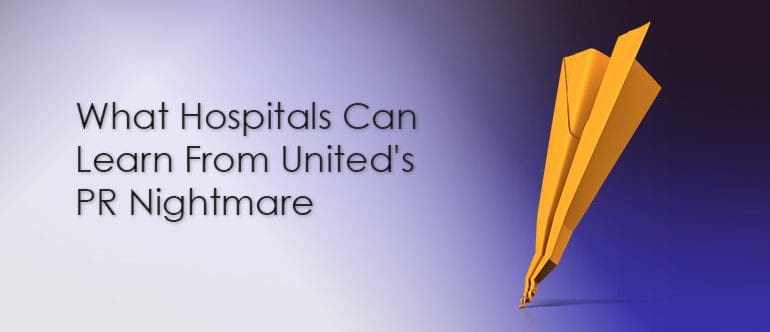 By Tamara Rosin for Becker's Hospital Review
After video footage of security guards dragging a physician from an overbooked United Airlines flight went viral last week, the company has struggled to mitigate what has already manifested as an iconic PR fiasco.
The video elicited shock and contempt among customers for the way United handled the situation, in part because many realized a similar scenario could happen to them. Customer service professionals were also unsettled by the video.
The flight attendants, who likely welcomed the man onto the plane with a smile not long before he was dragged down the aisle, face bleeding, past horrified flyers, probably realized that what was happening was not exemplary of the positive customer service experience they had been trained to provide. But they might have felt powerless to intervene, John Deighton, the Baker Foundation Professor of Business Administration at Harvard Business School, wrote recently in the Harvard Business Review.
The issue is that there have traditionally been two modes of customer service, according to Mr. Deighton: a friendly welcome or a "grim face, saying, 'call security.'" He argues that this is an outdated approach. Importantly, it fails to consider "the power of social media to punish companies whose employees go against their instincts as decent people because they felt bound to follow orders," Mr. Deighton wrote.
The moral of United Airline's crisis is not how to handle crisis management faster (it took the company's CEO, Oscar Muñoz, two days to apologize after the video surfaced), but rather to empower employees to handle difficult situations more nimbly and deftly than automatically resorting to the "call security" mode.
Hospital staff would benefit from heeding the same lesson. Emergency departments, for example, are prone to conflict, as many patients who come in through the ED doors are anxious, hurting and eager for medical attention. Other times nervous or agitated family members could spark discord.
Registration staff, nurses and physicians have many responsibilities to manage through the course of the day, and unruly patients and visitors could contribute to additional stress. However, it's critical to remember to approach a potentially disruptive person with respect, compassion and empathy — not to resort to calling security right away. People show up to the hospital prepared to put their health and lives in the hands of medical professionals. Staff should reserve calls for security for situations in which an individual truly poses a threat to the safety and well-being of themselves and those around them.