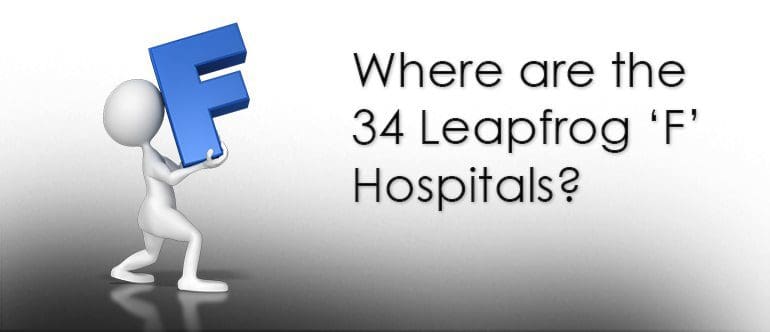 Written by Shannon Barnet for Becker's Infection Control & Clinical Quality
The number of hospitals that received an "F" safety grade from Leapfrog increased from 20 in the spring to 34 this fall.
The Hospital Safety Score assigns letter grades — A, B, C, D and F — to more than 2,500 hospitals in the U.S. in the spring and fall of each year. The grades are calculated by top patient safety experts and are peer-reviewed and fully transparent to the public.
The hospitals with the lowest grade this fall are spread across the following 17 states and the District of Columbia:
Alabama
Riverview Regional Medical Center (Gadsden)
Southeast Alabama Medical Center (Dothan)
Arizona
Mountain Vista Medical Center (Mesa)
California El Centro (Calif.) Regional Medical Center
Loma Linda University Medical Center-Murrieta (Calif.)
Lompoc (Calif.) Valley Medical Center
Pioneers Memorial Healthcare District (Brawley)
San Antonio Regional Hospital (Upland)
District of Columbia
Howard University Hospital
Florida
Putnam Community Medical Center (Palatka)
Iowa
Mercy Medical Center-West Lakes (West Des Moines)
Mercy Medical Center of Des Moines (Iowa)
Indiana
Marion (Ind.) General Hospital
Kansas
Pratt (Kan.) Regional Medical Center
Kentucky
Saint Joseph East (Lexington)
Louisiana
Glenwood Regional Medical Center (West Monroe)
Lake Charles (La.) Memorial Hospital
LSU Medical Center-University Hospital (Shreveport)
Teche Regional Medical Center (Morgan City)
Michigan
Hurley Medical Center (Flint)
UP Health System-Portage (Hancock)
West Branch (Mich.) Regional Medical Center
Mississippi
University Hospitals and Health System-University of Mississippi Medical Center (Jackson)
New York
Kings County Hospital Center (Brooklyn)
SUNY Upstate Medical University Hospital (Syracuse)
Upstate University Hospital-Community Campus (Syracuse)
Oklahoma
Grady Memorial Hospital (Chickasha)
Pennsylvania
Canonsburg (Pa.) General Hospital
Clarion (Pa.) Hospital
Tennessee
Nashville General Hospital
Texas
Nacogdoches (Texas) Memorial Hospital
Southwest General Hospital (San Antonio)
University General Hospital (Houston)
Washington
Samaritan Hospital of Moses Lake (Wash.)