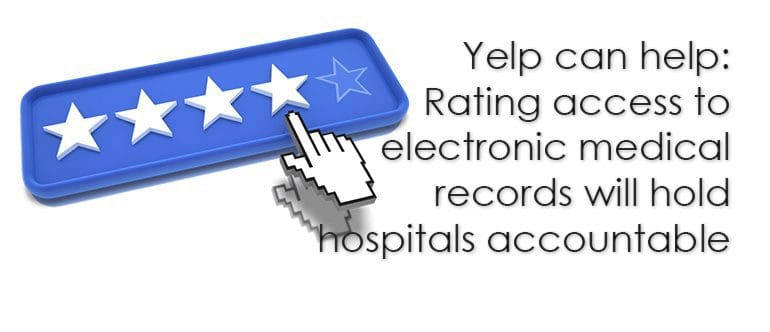 By Niam Yaraghi for Brookings
While patients may hugely benefit from having access to their own medical records, many hospitals and physicians are still very reluctant to provide patients with a copy of their records.
Although taxpayers have partly paid for the majority of hospitals to adopt electronic health records systems, which reduce the cost of reproducing medical records to effectively zero, some of them continue to charge patients exorbitant fees for access to their records. While imposing these charges is against the Health Insurance Portability and Accountability Act (HIPAA) regulations, some medical providers take advantage of patients' unfamiliarity with such regulations and use HIPAA and patient privacy as excuses to avoid releasing patient records.
Now, in an unprecedented lawsuit against MedStar Georgetown University Hospital and George Washington University Hospital, three patients are seeking class-action status, saying they were charged hundreds to thousands of dollars for a copy of their electronic medical records.
Regardless of its result, the lawsuit will benefit patients, as it creates significant publicity around and awareness about their rights to access their medical records. To avoid negative publicity and legal costs associated with such lawsuits – of which we will witness many more in near future – medical providers will make sure that patients have access to their records. It seems that these lawsuits will achieve the goals that the second stage of the meaningful use program failed to achieve.
Although I have criticized the patient reviews of medical providers, I believe that online platforms such as Yelp can be a great driver to push physicians and hospitals to provide patients with access to their electronic medical records. If Yelp and other online review platforms consider access to electronic health records as a criterion in their evaluation system, medical providers will be motivated enough to increase their star ratings by allowing patients to easily access their records.
Medicare should also include this feature in its Hospital Consumer Assessment of Healthcare Providers and Systems survey, whose scores matter so much to hospitals that they will spend money on "health spas, stone fireplaces and five-star restaurant chefs" to ensure patient satisfaction. If Medicare, in its survey, starts asking patients whether they have a copy of their medical records, hospitals will make sure that every patient has access to his medical records.