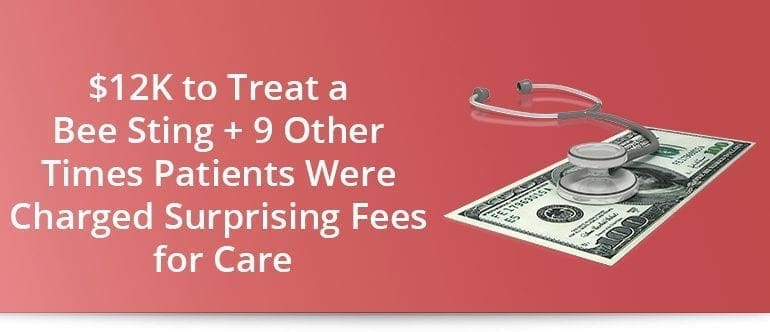 By Alyssa Rage for Becker's Hospital Review
Becker's Hospital Review reported on a number of cases this year involving patients being charged unexpected fees for medical care and services.
Here are 10 instances in which patients received a surprising bill for healthcare services:
Woman receives $12k bill after 2-hour ER visit for bee sting
A woman in Florida received a $12,000 bill after she went to a hospital ED for a bee sting in 2015. Because the hospital was not in the patient's insurance network, she was responsible for the entire $12,000 bill at the time of publication.
Colorado hospital invoices mom $1,216 for newborn daughter's circumcision
Lone Tree, Colo.-based Sky Ridge Medical Center erroneously charged a mother $1,216.50 for circumcising her newborn daughter. A coding error led to the charge and the invoice was eventually corrected.
Family of boy injured on camping trip hit with $32k air ambulance bill: 5 things to know
The family of a Missouri boy who was transported by air to a hospital following a camping trip injury was left with out-of-pocket costs totaling more than $32,000.
A Florida man got 2 CT scans, one in an outpatient facility and another in an ED. The latter cost 33 times more
A Fort Myers, Fla., man got two different bills for separate but similar CT scans of his abdomen. However, an outpatient facility charged him $268 for the scan, while a Fort Myers, Fla.-based Lee Health hospital charged $8,897. After the patient's insurer negotiated its in-network discount with Lee Health, Mr. Hynden ended up with a $3,394.49 bill.
Oklahoma woman hit with $15K charge for 4 surgical screws
An Oklahoma woman was initially charged $15,076 for four surgical screws after undergoing foot and shoulder surgery.
Texas man receives $7,924 surprise bill after going to an in-network ER
Scott Kohan was taken by ambulance to an emergency room in Austin, Texas, in late January after suffering a jaw injury during a violent attack. When he woke up the next morning, a nurse explained he would need jaw surgery. After confirming the hospital was in-network, he decided to go through with the surgery. However, he still ended up with a $7,924.13 bill, as his oral surgeon was out-of-network. The hospital eventually dropped the charge.
Stroke patient received $42K helicopter bill, then was asked to keep billing 'discount' secret: 9 things to know
A stroke patient who received a $42,000 air ambulance bill was asked to sign a nondisclosure agreement after the bill was reduced. The patient was left with a $37,000 bill after payment from the patient's insurance company, Ambetter. Ultimately, the patient was able to reduce the bill to just under $17,000 through negotiations. However, after finalizing the amount, air ambulance company Med-Trans asked him to sign and return a nondisclosure agreement indicating he would not discuss his "discount."
Parents charged $15,666 trauma fee after baby takes nap, drinks formula in ER
In 2016, South Korean tourists took an ambulance to San Francisco-based Zuckerberg San Francisco General Hospital after their 8-month-old son fell and hit his head in a hotel room. Physicians quickly determined the child was OK. Two years later, the family received an $18,836 bill for the visit, with the bulk of the bill — $15,666 — reflecting a "trauma activation" fee.
Elderly woman charged $800 for ambulance ride during emergency evacuation from nursing home
An elderly woman in California received a $792 bill after nursing home staff put her in an ambulance during an emergency evacuation for a dam break.
North Carolina hospital charges man $1,011 after 'free' cancer screening, biopsies
A North Carolina resident visited High Point, N.C.-based Bethany Medical Center for a "free" cancer screening, but a month later received a bill charging him $1,011. The medical center later waived the $1,011 bill.