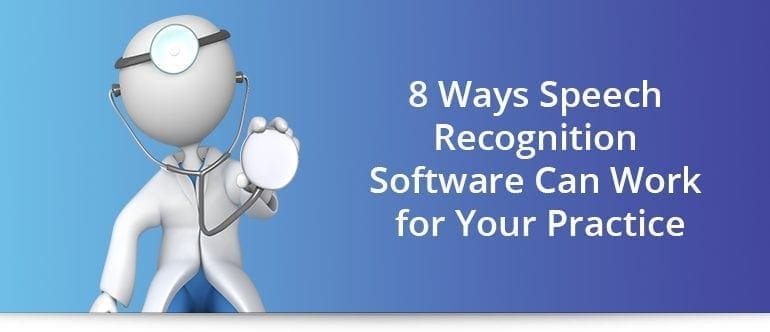 By Andis Robeznieks for American Medical Association
Speech-recognition software is a tool that any size health care organization can use as part of their systematic efforts to improve the quality of the care they deliver and the experience of an office visit for patient and clinician alike.
So say two physicians who helped to implement the technology—often called voice-recognition software—at the Yale Medicine faculty practice and the Yale-New Haven Health system.
Speech recognition is an easy-to-navigate "tool that makes people's lives better," said Ronald Vender, MD, an AMA member and Yale Medicine's chief medical officer.
Allen Hsiao, MD, a pediatric emergency medicine specialist and chief medical information officer for the practice and the system, agreed. Physicians see their colleagues using speech-to-text software and notice the difference it's made in their work and want to start using the technology, he said.
At a recent rollout for two hospitals, Dr. Hsiao said about 50 physicians had taken the training to use speech recognition.
"By the end of the first week, we probably trained 300 more after people saw how easy it was," he recalled. "Now we're fighting over microphones."
Both Drs. Vender and Hsiao had plenty to say about speech-recognition software. Here are eight things to know about implementing this technology in your practice.
Works for practices of any size. "If you're a doctor, it's helpful," said Dr. Hsiao.
Helps tell patients' stories. New technological capabilities to pull and organize discrete data elements out of free text have helped Dr. Hsiao manage the care of his complex patients.
Dr. Vender, a gastroenterologist, said the histories of patients with heartburn can usually be recorded efficiently with the basic algorithms or question lists found in a typical EHR system.
But patients with more complex conditions such as inflammatory bowel disease have more complicated histories that often involve psycho-social issues that veer from common EHR templates.
"It's not just clicks—they have a more nuanced and complicated story to tell," Dr. Vender explained. "For these patients with complicated histories, doctors would just end up typing—and many doctors are not necessarily quick or effective typists."
Richer content pays off. Speech-recognition software allows physicians to "think out loud," said Dr. Hsiao. That leads to richer content, less cutting and pasting of notes, and more complete problem lists.
"I also get fewer questions from billers and coders now," he said, adding that speech-recognition software also eliminates the need for transcribing dictated notes—and the delays that come with it.
Easy to implement. "It literally takes 10 minutes of training to get comfortable using it," Dr. Vender said.
Accents are not a problem. The most common concern Dr. Hsiao said he hears is, "This won't work for me, I have a heavy accent." But by reading and recording a few paragraphs, medical transcription programs can be trained to recognize any physician's unique voice pattern.
You still need to check for errors. Seven in 100 words in unedited speech recognition-generated documents had an error and one in 250 words contained a "clinically significant errors," according to a study, "Analysis of Errors in Dictated Clinical Documents Assisted by Speech Recognition Software and Professional Transcriptions," published in JAMA Network Open.
One error discovered by the researchers was a reference to a patient having a "grown mass" instead of a "groin mass."
Dr. Hsiao reported a much lower error rate with their "front end" speech recognition system. The journal article described how, with front-end systems, clinicians dictate directly into free-text fields and then edit the transcription before saving the document.
It is not for everyone. "Some people don't love it," Dr. Vender said. "For these people, it's just easier for them to type. It's how they think."
Improves patient experience. A hidden benefit of using speech-to-text technology is greater patient satisfaction.
"Dictate the patient's history and assessment in front of the patient," Dr. Vender said. "That way, the patient gets to hear that their doctor heard every word they said."
Then, something terrific happens.
"It's very common for the patient to compliment the doctor and express their appreciation that they got so much of their information into the record and got it so accurately."