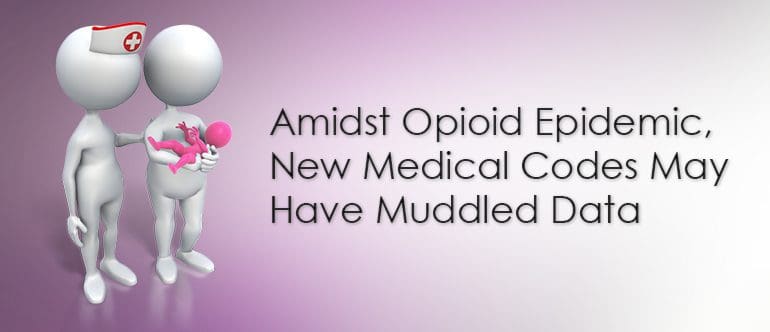 By Naseem S. Miller for Orlando Sentinel
The number of babies who were exposed to opioids in the womb jumped by 200 percent in Florida between 2015 and 2016 — to more than 2,500 cases — the biggest spike in the past decade, according to state data.
But the number of newborns statewide who were diagnosed with opioid-withdrawal symptoms known as neonatal abstinence syndrome dropped by 68 cases to 1,468, bucking the past decades' trend of steady increase.
The incongruous numbers, which usually go hand in hand, are baffling to experts who analyze data for a living. They say the overhaul of the U.S. medical coding system in late 2015 could be partly to blame.
"[State officials] need to issue a bulletin to hospitals and tell them how to code this," said Dr. Mark Hudak, chairman and professor of pediatrics at University of Florida College of Medicine in Jacksonville. "The coding is becoming more complicated … and it's a challenge for everybody."
The U.S. medical coding system, called the International Classification of Diseases, or ICD, is how doctors and hospitals code patient procedures, diagnoses and symptoms.
As opioid abuse explodes across the country, it's important for researchers to be able to analyze the data. But things can get tricky when comparing data between the two versions of the codes.
"The problem is that we don't know about the comparability of the codes," said Dr. Russell S. Kirby, Marrell Endowed Chair at the Department of Community and Family Health at University of South Florida. "That's probably something we need to evaluate."
For instance, while there was a code in the ninth version for exposure to narcotics in the womb, there's no corresponding code in the new version. Providers instead can choose a more general code that refers to exposure to "other drugs."
And because the codes are new, it's not clear how uniformly hospitals across Florida are using them.
Also confusing matters, neonatal abstinence syndrome became a mandatory reportable condition to the Florida Department of Health in June 2014, said Dr. Chris Delcher, assistant professor in the Department of Health Outcomes and Policy at University of Florida College of Medicine.
"It is possible that this policy change contributed to some increase in case reporting after a period of delay where hospital systems improved reporting consistency," said Delcher, who's part of Florida drug-Related Outcomes Surveillance and Tracking System at UF.
Still, the 2016 data baffled many.
"This is far higher than I expected," said Dr. Douglas Hardy, clinical director of the Neonatal Intensive Care Unit at Winnie Palmer Hospital for Women & Babies and a member of Orange County Heroin Task Force, when he saw the numbers for the first time.
The inconsistency in reporting has become such a concern for a group of neonatal experts in West Virginia, the ground zero for the opioid epidemic, that they are asking for the addition of new, opioid-specific neonatal codes to ICD-10.
"We realized that not everybody calls neonatal abstinence syndrome the same thing," said Dr. Sean Loudin, a neonatologist at Cabell Huntington Hospital in West Virginia and a member of West Virginia Perinatal Partnership, which represents more than 300 professionals and public and private agencies in the state.
To remedy the situation in the meantime, the group came up with a definition for neonatal abstinence syndrome: any baby who is prenatally exposed to any neuroactive substance and exhibits symptoms is diagnosed with NAS.