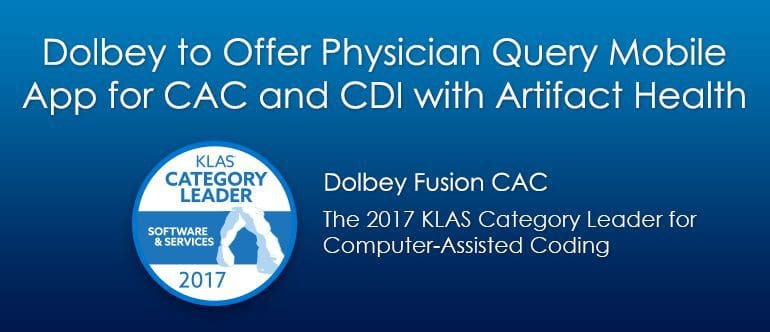 Dolbey's award winning Computer-Assisted Coding application and new Clinical Documentation Improvement offering will now include the power and convenience of mobile physician queries and enhanced query management and reporting through Artifact Health.
Dolbey's Fusion CAC™ is deployed in the medical coding process.  Fusion CAC evaluates the patient chart documentation to suggest diagnostic and procedure codes for billing and reimbursement.  Dolbey's Fusion CDI™ is used by Documentation Specialists to manage the process of evaluating the accuracy and thoroughness of patient documentation.  Both the CAC and CDI processes identify query opportunities. By integrating Artifact Health's query management and mobile applications, Dolbey's CAC and CDI customers can immediately provide a faster and easier query solution to their physicians.
"Physicians aren't generally fond of being queried but it is an absolute requirement to achieve accurate documentation for quality management and a healthy revenue cycle," said Heather Eminger, CAC/CDI Product Manager with Dolbey. "Answering queries is much easier when it requires only a few taps on your smartphone."
With Artifact, Dolbey customers can access a library of customizable and compliant query templates, CDI and provider educational content, and a suite of comprehensive query management reports.
"Hospitals miss opportunities for full reimbursement because physicians find the query process time-consuming and burdensome," said Marisa MacClary, CEO of Artifact Health. "Artifact drives improvements in query response rate and response time by engaging physicians and streamlining the process."
Dolbey will be showcasing the Artifact Health query solution alongside the Fusion CAC and Fusion CDI solutions at the upcoming Association of Clinical Documentation Improvement Specialist (ACDIS) Conference at the MGM Grand Las Vegas May 9th through the 12th.
About Dolbey
Dolbey's award winning healthcare suite of solutions improve productivity while delivering better documentation for coding and billing, and they offer a flexible workflow for physicians with dictation or speech recognition, powerful computer-assisted coding, CDI and Core Measures abstraction and reporting. You can experience more accurate documentation, healthier patients and better revenue cycle with Dolbey.
About Artifact Health
Artifact Health streamlines the physician query process to help hospitals and physician practices improve the quality of patient medical records and the accuracy of coded data for proper reimbursement and quality reporting. A mobile interface makes it easier for physicians to respond to queries anytime, anywhere. Artifact works alongside existing CDI and coding software and integrates with EMR systems so that physician responses generate addenda in the record. For more information, please visit www.artifacthealth.com.
For further information, please contact:
Traci Miller, Marketing Executive
800-878-7828 x119/tmiller@dolbey.com
www.dolbey.com