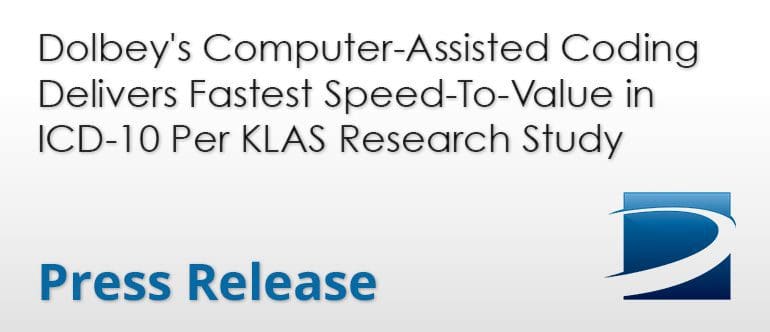 CONCORD, OH – OCTOBER 13, 2016
In the recently published study, "Computer-Assisted Coding 2016, Who is Delivering Promised Value in ICD-10" by KLAS Research, Dolbey customers reported the fastest ICD-10 speed-to-value. With the implementation of ICD-10, most healthcare organizations experienced a decline in coding productivity which results in higher unbilled accounts receivables. Dolbey customers, using Fusion CAC computer-assisted coding, generally reported they had returned to or exceeded pre-ICD-10 productivity in as little as two weeks. On KLAS Research scale of 1-9, 9 being the best, Dolbey scored a 7.8 ahead of well-known industry brands like 3M and Optum for Speed-To-Value in ICD-10.
Dolbey's Fusion CAC integrates the entire patient chart to suggest medical billing codes to human coders for validation. In addition to the coding capabilities, Dolbey's Fusion CAC also provides workflow, tools for clinical documentation improvement (CDI), data analytics and a host of time saving features for a healthier revenue cycle.
In addition to delivering the fastest value with ICD-10, according to KLAS Research, Dolbey also rated best with natural language processing (NLP responsive support, executive involvement and consistent project management. *One Dolbey customer told KLAS, "Dolbey was excellent in helping us get through ICD-10 very smoothly. There were a lot of people that had problems with that, but we had a smooth transition because Dolbey was very good to work with our team and our other vendor,". Another stated, "Fusion CAC is a strong product that makes coding easier, faster, and more accurate. The HIM staff members' response to the product has been extremely positive, and we are delighted that the transition to ICD-10 has not caused the billing delays we expected. Dolbey has been very responsive to our needs, and their support has been excellent. We are very happy with Fusion CAC overall."
"We've invested in building strong partnerships with our customers which has led to a rapid evolution of our CAC solution," says Heather Eminger, CAC Product Manager at Dolbey. "Our entire team is very passionate about seeing each customer achieve the accuracy and productivity that is within their potential."
Dolbey will be showcasing an updated version of their Fusion CAC at the upcoming American Health Information Management Association (AHIMA) meetings in Baltimore September 16-19. Attendees will be able to see the solution in use and meet Dolbey customers who will share their positive outcomes.
*The above comments are selected commentaries from the KLAS website that may not represent the whole of provider sentiment related to this product or service. Visit KLASresearch.com for a complete view.
About Dolbey
Dolbey is a leading provider of speech recognition powered by Nuance's SpeechMagic™, dictation, transcription, quality management, and computer-assisted coding for healthcare providers in the United States and Canada. Together, Dolbey and Company, Inc. and Dolbey Systems, Inc. offer the Fusion Suite of integrated products.
About KLAS
KLAS is a research and insights firm on a global mission to improve healthcare delivery by amplifying the provider's voice. Working with thousands of healthcare professionals and clinicians, KLAS gathers data and insights on software, services and medical equipment to deliver timely reports, trends and statistical overviews. The research directly represents the provider voice and acts as a catalyst for improving vendor performance. Follow KLAS on Twitter at http://www.twitter.com/KLASresearch.