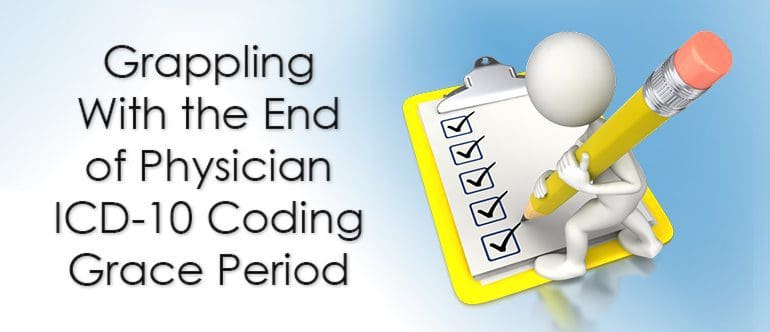 Article by Mary Butler. This article was originally published on the Journal of AHIMA website on May 19, 2016 and is republished here with permission.
October 1, 2016, will mark the end of a one-year "grace period" that allowed unspecified ICD-10-CM codes on certain physician Medicare claims. The grace period was a joint initiative between the Centers for Medicare and Medicaid Services (CMS) and the American Medical Association, created to help ease the transition from ICD-9 to ICD-10 for physician practices. The end of this transitional period could be a rocky one if coding professionals and providers neglect to prepare for it.
In an article written for AHIMA's ICD-TEN newsletter, "Physicians prepare for conclusion of ICD-10 grace period," Christine Lee, MHA, RHIA, CCS, CPC, manager, provider practice audit services, CIOX Health, provides a host of ways that providers can make sure the new deadline passes with minimal disruptions.
"While there are a few instances where usage of unspecified ICD-10-CM codes may be appropriate, widespread use of numerous unspecified codes should be the exception, not the rule," Lee writes.  "Practices submitting unspecified ICD-10 codes after October 1, 2016 may potentially experience an increase in claims rejections. As rejections increase, so will payor requests for medical records and clinical documentation."
Click here to read the article in full.