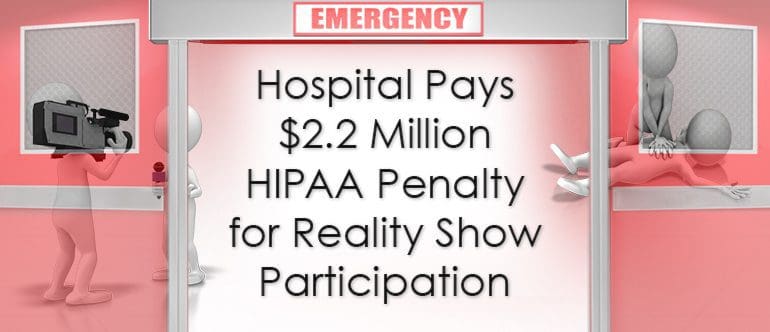 Article by Mary Butler. This article was originally published on the Journal of AHIMA website on May 18, 2016 and is republished here with permission.
New York Presbyterian Hospital was slapped with a $2.2 million fine for allowing a network reality show film the death of a trauma patient without seeking permission from the patient's family.
The Journal reported on this same incident a year ago when the family took legal action against the hospital and the network, ABC, for being involved in the production of a segment from the show "NY Med."
The episode in question aired a vignette in which New Yorker Mark Chanko was rushed to the hospital's trauma center after being hit by a sanitation truck. Although his name and face were not shown, when the episode aired, his widow, Anita, recognized her husband's voice, and the clothes he was wearing. ABC had not asked permission to use the footage.
On April 21, the US Department of Health and Human Services' Office for Civil Rights (OCR) issued a statement announcing the hospital's decision to settle with OCR, the agency called the hospital's actions "egregious."
"By allowing individuals receiving urgent medical care to be filmed without their authorization by members of the media, NYP's actions blatantly violate the HIPAA Rules, which were specifically designed to prohibit the disclosure of individual's PHI, including images, in circumstances such as these," said OCR in an online announcement. "OCR also found that NYP failed to safeguard protected health information and allowed ABC film crews virtually unfettered access to its health care facility, effectively creating an environment where PHI could not be protected from impermissible disclosure to the ABC film crew and staff."
Dr. Joel Geiderman, chairman of the ethics committee of the American College of Emergency Physicians, told the New York Times that this settlement could have a "chilling effect" on whether providers choose to participate in a TV series.
"Any hospital legal counsel worth his salt or any P.R. director would be committing malpractice in order to allow it to occur. It's now embodied in a federal directive," Geiderman told the Times.
New York Presbyterian will undergo a corrective action plan and two years of monitoring by OCR.