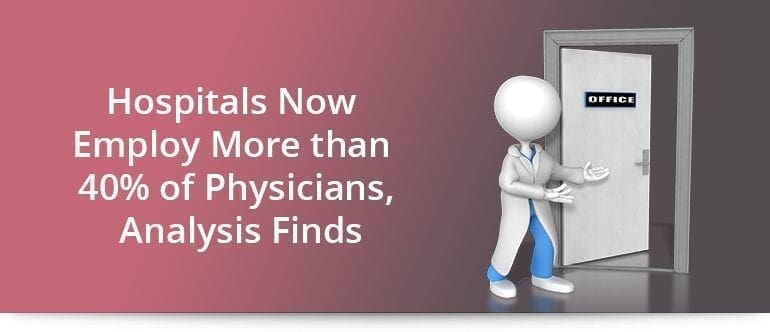 By Les Masterson for Healthcare Dive
Dive Brief:
Hospitals acquired 8,000 medical practices and 14,000 physicians left private practice and entered into employment arrangements with hospitals between July 2016 and January 2018, according to a new report by Avalere Health and the Physicians Advisory Institute (PAI).
The number of hospital-acquired physician practices grew from 35,700 in 2012 to more than 80,000 in January 2018, according to the paper.
A hospital or health system employed about 25% of U.S. physicians in 2012. That percentage nearly doubled to 44% in 2018.
Dive Insight:
The research highlights a trend that's leading to a more consolidated industry. The issue isn't focused on specific geographic regions, either. The report found that all regions have seen an increase in hospital-owned practices.
Robert Seligson, PAI's president and CEO of the North Carolina Medical Society, said the consolidation trend is "dramatically reshaping" healthcare. PAI is examining the pattern as a way to better understand how physician employment and consolidation is affecting medicine and patients.
Between July 2016 and January 2018, the percentage of hospital-employed physicians grew by 6% and the percentage of hospital-owned practices increased by 5%. Avalere and PAI divided the nation into five regional sections and found each one increased for both hospital-employed physicians and hospital-owned practices. Hospital-employed physicians increased from between 3% and 7% by region and hospital-owned practices increased between 1% and 8%.
Avalere and PAI said there's a direct cost impact on consolidation. The organizations said Medicare paid $2.7 billion more for services performed in hospital outpatient settings than if they were done in independent physician offices. The trend can also lead to higher costs for patients. Avalere and PAI estimated beneficiaries paid $411 million more for those services.
A recent Health Affairs study of highly concentrated markets in California found that marketplace premiums increased 12% between 2014 and 2017. Outpatient visit prices were likely to rise after private practices were acquired or vertically integrated into hospital systems.
However, another possible reason for that increase is that patients who visit doctor offices may be in better health than those in outpatient departments in hospitals. A 2018 American Hospital Association study conducted by KNG Health Consulting found that hospital outpatient departments serve sicker, poor Medicare patients than independent practices.
In hopes of cutting costs for hospital outpatient visits, CMS is proposing to make payments for clinic visits site neutral. The move would make outpatient rates the same as doctor office visits. CMS said the change would save $610 million annually and lead to lower patient costs.
The AHA opposes the site neutrality payment change. The AHA said CMS lacks an "understanding about the reality in which hospitals and health systems operate daily to serve the needs of their communities."