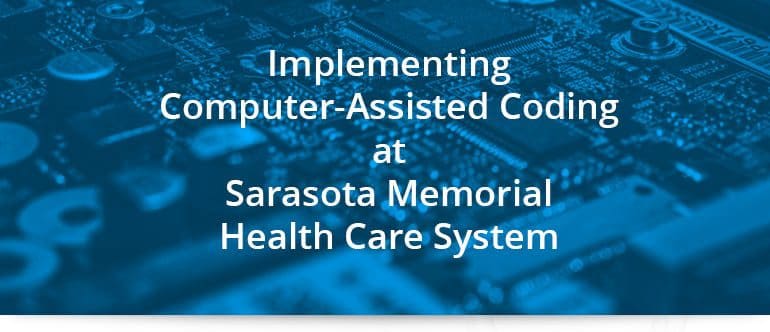 By George Redd-Hachey, MSML, CCS, CCDS, CHDA, CHPS for The Journal of AHIMA
Located in southwest Florida, Sarasota Memorial Health Care System (SMH) includes an 839-bed teaching hospital, level II trauma center, rehabilitation pavilion, and behavioral health center. Additional facilities include a free-standing emergency center and six urgent care centers. A 120-bed hospital under construction in Venice, FL, is scheduled to open in October.
The health system's accolades include a five-star Quality Rating from the Centers for Medicare and Medicaid Services, an "A" grade from the Leapfrog Group, and a Gallup's Great Workplace Award. SMH is also listed on IBM Watson's "Top 100 Hospitals," CHIME's "Most Wired," and Newsweek's "World's Best Hospitals, 2020."
Defining the Project
In January of 2019, SMH embarked on a computer-assisted coding (CAC) implementation to increase the productivity of coders and clinical documentation improvement (CDI) specialists.
CAC technology utilizes natural language processing (NLP) to identify and apply medical codes based on documentation analysis of key terms and phrases. Properly implemented, CAC systems can markedly increase coding productivity, efficiency, and accuracy.
For Sarasota Memorial's health information management (HIM) department, a successful go-live would achieve three primary objectives:
Decrease the HIM department's contract staffing expenses and shorten processing—or unbilled time as measured by discharged not finally coded (DNFC) days.
Improve the accuracy and thoroughness of the HIM department's coding. By capturing more codes and increasing accuracy, the HIM team hoped to increase their case mix index and decrease payer denials.
Create a more efficient workflow by bringing coders and CDI specialists onto a shared platform for streamlined communication and collaboration, as well as utilization of a robust, common reporting source.
Vendor Selection
SMH created a vendor-selection committee comprised of stakeholders from multiple disciplines, including HIM, CDI, information services, project management, and administration.
The committee evaluated four vendors. Eschewing standard demonstrations, the committee provided vendors with a script that outlined end-to-end workflow and tested each vendor's ability to respond to specific requests.
Scores were compiled to find the overall winner. Vendor F in Table 1 is Dolbey, which met or exceeded expectations for 95 percent of committee members.
Table 1: Blind Vendor Comparison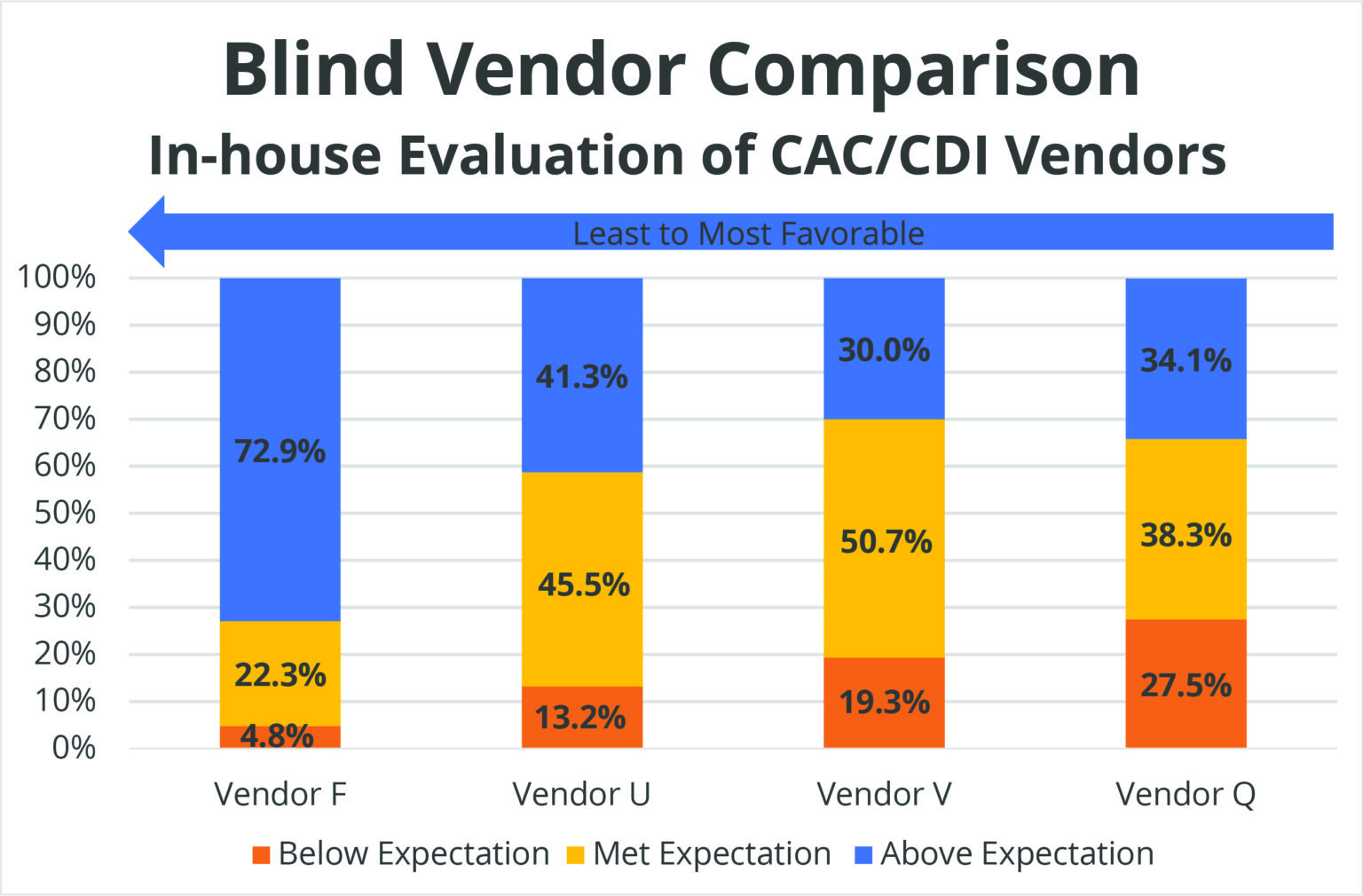 In addition to the demonstrations, the committee considered which vendor offered the encoder that fits the end users' needs. The committee chose TruCode due to its tight integration and its partnership with Dolbey. What's more, the solution offered the tools for knowledge-based encoder technology.
Different from logic-based encoders, knowledge-based encoder technology leverages the coder's experience and preferences to ensure accurate code assignment. This technology conforms to classification logic, which promotes the proper use of coding conventions and supports good coding practices.
The software also provided instructional and crucial resources at the point of coding, such as access to Optum Coders' Desk Reference, AHA Coding Clinic (ICD-9-CM, HCPCS and ICD-10-CM/PCS), Official Guidelines (ICD-9-CM and ICD-10-CM/PCS), AMA CPT Assistant, Merck Manual, Truven Health Micromedex Drug Data, MedLearn Interventional Radiology Coder, and Dorland's Medical Dictionary.
Implementation
With the vendor selection process completed, the team focused preparing the end-users for go-live, including education by coding and CDI managers and buy-in.
Education meant more than just helping end users become familiar with the new solution and understand its strengths and weaknesses, but also to reassure them that the CAC system was an enhancement of—not a replacement for—their skillsets.
To aid in understanding roles and responsibilities in context of using the new solution, SMH created a new position—HIM data analyst—to act as system administrator and main liaison among stakeholders.
The human element also was managed during this phase. Learning new technology has the potential to trigger anxiety and negativity to creep into the minds of the people using the system. So project managers were proactive in generating positive excitement for the new implementation.
For example, end users were given sneak peek at the system one month before go-live. The preview event resembled a Hollywood-style movie premiere, complete with movie posters to publicize the event. All stakeholders were invited to a red carpet, catered lunch with paparazzi, swag bags, multimedia presentations, and a movie trailer before walking them through the software on the big screen.
Stakeholders got to see the workflow schema that transitions from old processes to new ones. One of the brightest stars of the event was the unveiling of new custom workflows, including:
Query Workflow: At SMH, all physician query opportunities are handled by CDI, including post-discharge coder queries. The CAC vendor created an online form for coders to complete with query information and the expected impact. This form is then reviewed by CDI staff, who then query if necessary or communicate with the coder if not.
Charge Correction Workflow: Like the query workflow, charge correction allows outpatient coders to communicate with the charge correction staff about missing or incorrect charges.
PSI/HAC Workflow: Charts with patient safety indicators (PSI) or hospital-acquired conditions (HAC) are identified concurrently as they are coded, and routed to a quality department reviewer who must sign off on the PSI/HAC before a coder can finalize the account.
Go-Live
The three days after go-live, in August 2019, were the hardest. Everyone struggled with the huge amount of change. However, after three weeks, end users settled into new workflows and processes. Minor adjustments to account workflows were made, and users developed muscle memory.
After three months, the transition was complete. Stakeholders reviewed the metrics established at the outset of the implementation.
Table 2 shows SMH's DNFC for October through December 2019, compared to the previous year. The department experienced a seasonal increase in volume, which accounts for the rise in DNFC over those months, but also realized an improvement of 1.4 days of revenue by January 2020 as compared to January 2019.
Table 2: DNFC Compare Year 1 to Year 2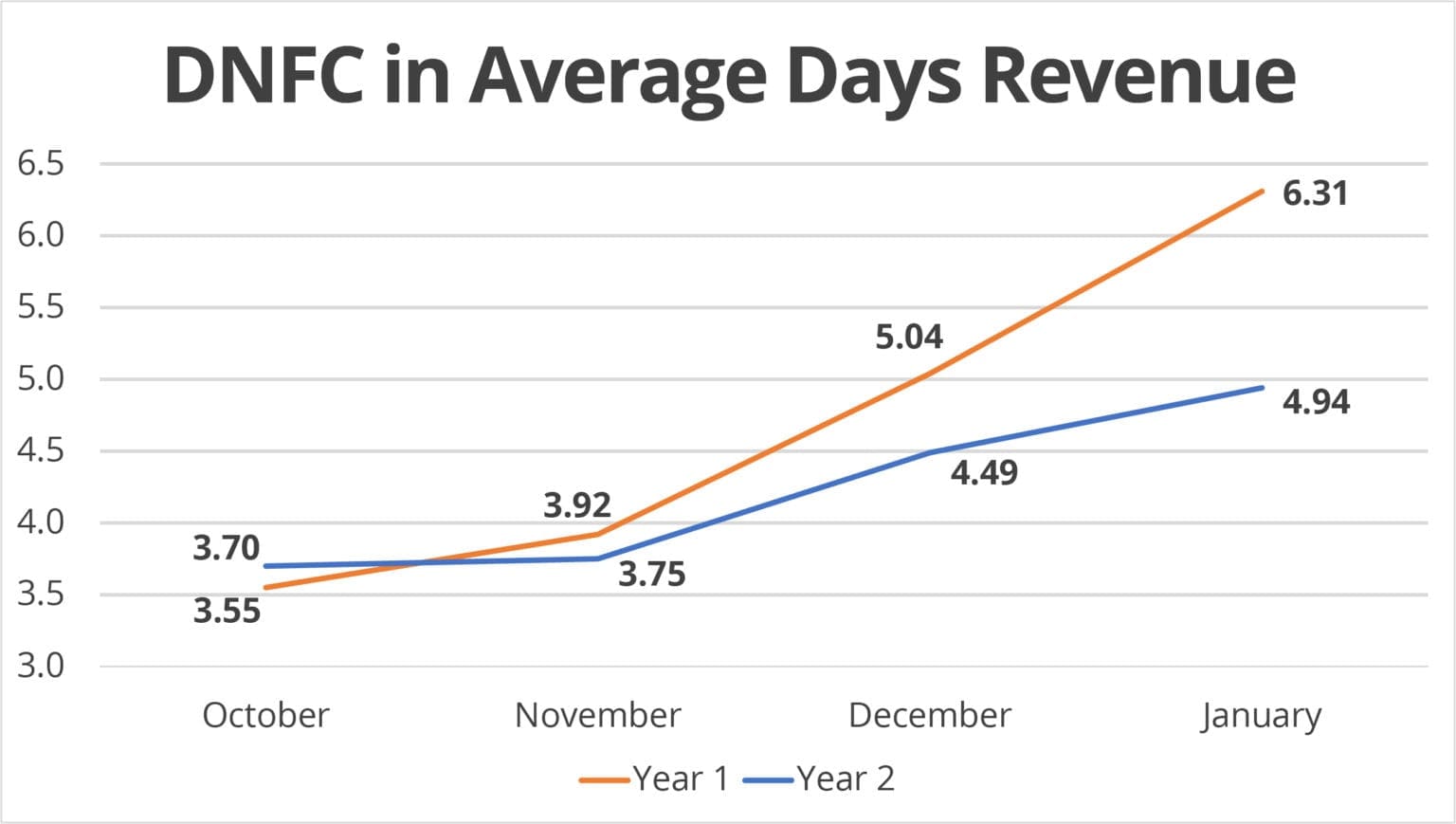 Over the same time period, the department was pleased to see an improvement in in-patient coder productivity of three accounts per hour. (Table 3)
Table 3: Inpatient Coder Productivity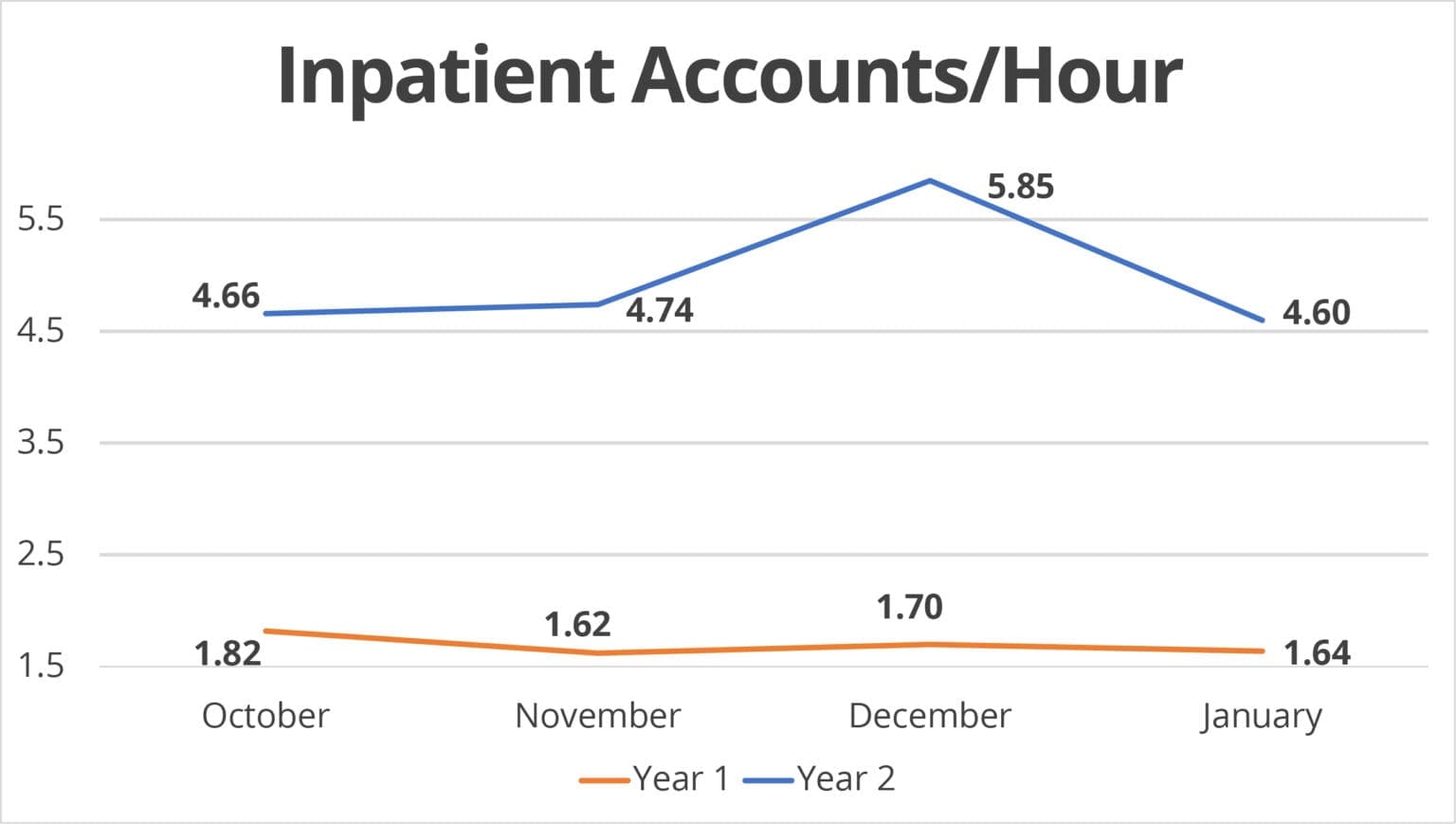 In Table 4, the baseline at go-live for outpatient coder productivity was approximately 11 accounts per hour. This number increased to 13.6 in the first month. Today, the department is at 16.5 accounts per hour for all outpatient visits—a 50-percent increase over the pre-CAC baseline.
Table 4: Outpatient Coder Productivity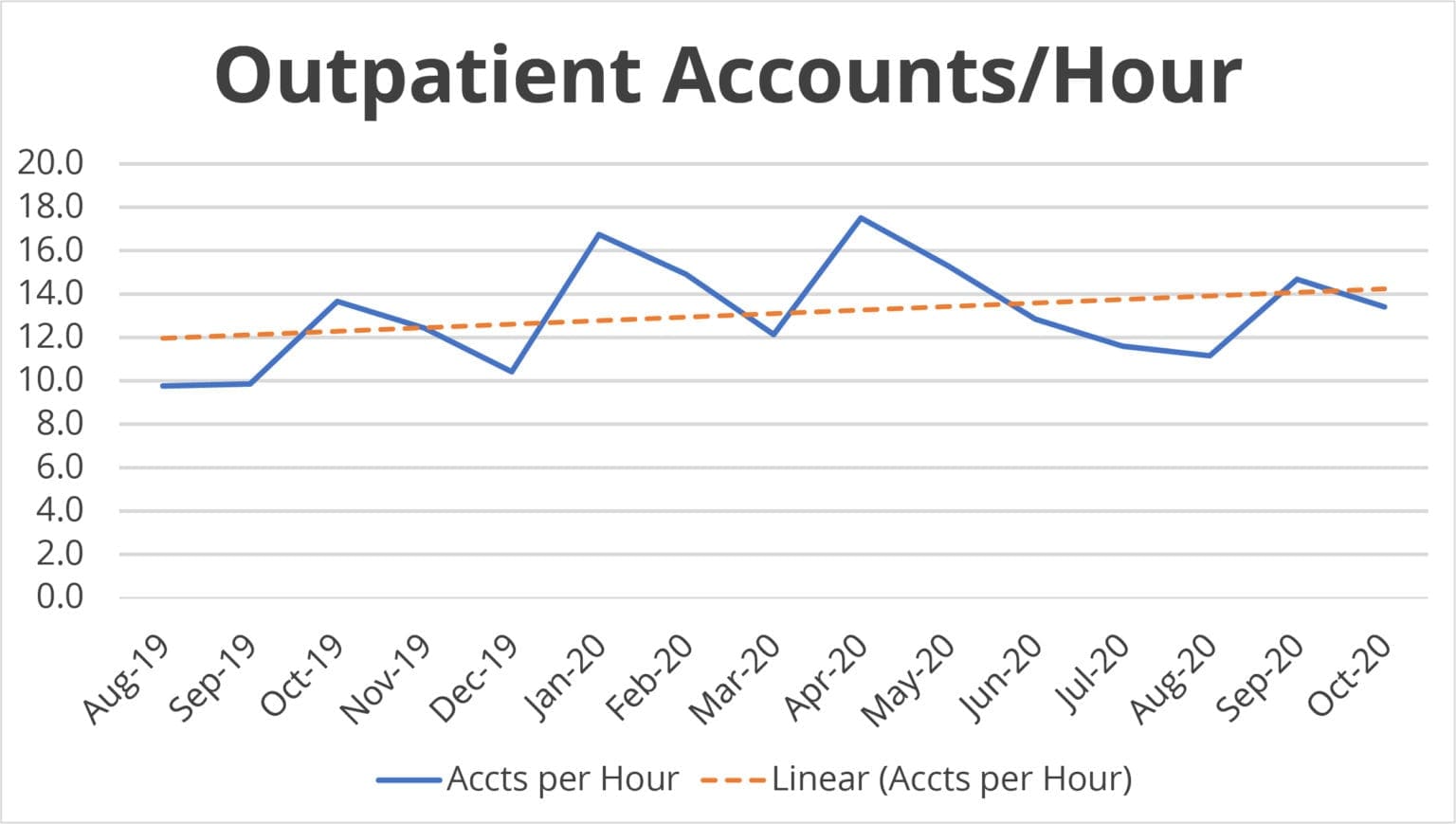 Lessons Learned
Here are a few lessons learned from the implementation:
Establish Benchmarks. Benchmarks serve as objective measures of success. It is important to measure and share progress, especially in the early days of go-live, because end-users may not readily recognize improvements. In our experience, success starts to show up before comfort does.
Encoders Matter. SMH's decision to switch encoders from the logic-based universe to the knowledge-based universe was a big deal. Many coders and some CDI specialists have only ever lived with a logic-based encoder. In retrospect, it would have been helpful to practice coding without a logic-based encoder before go-live, and use the knowledge-based encoder to reinforce staff's foundational coding training.
Go-Live is Stressful. It would have been a good idea to have repeated remedial training scheduled at the three-week and three-month marks, instead of scheduling ad hoc training as a reaction to staff's needs as they emerged.
Critical Considerations
Essentials for adapting this case study for your own implementation.
Examine your current processes. Some existing processes will be transitioned to the new platform, but consider critical workflow changes to optimize the new system's features and functionality.
End-user engagement should include proactive management of expectations regarding staff's roles after go-live.
Proactive, schedule training sessions ensure end-users' comfort with new technology, and help stakeholders identify potential areas of need.
Assess objectives and benchmarks after end-users have fully adopted the workflows created by the new system.
George Redd-Hachey (george-redd-hachey@smh.com) is director of HIM for Sarasota Memorial Health Care.