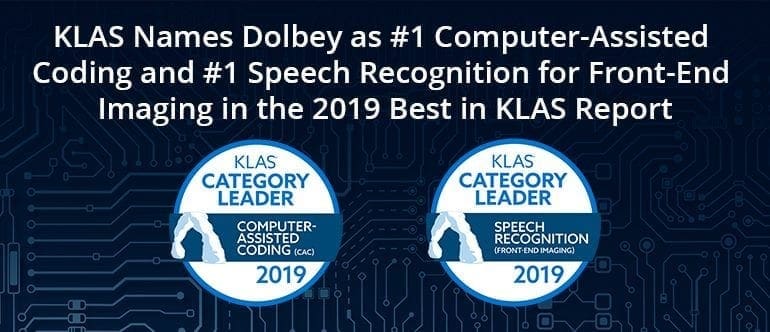 Dolbey delivers solutions to healthcare that support the entire cycle of a patient's chart. Its solutions specialize in physician-facing applications for speech recognition and dictation as well as solutions for document creation and transcription, clinical documentation improvement (CDI) and computer-assisted coding (CAC).
KLAS Research is a healthcare information technology data and insights company providing the industry with accurate, honest and impartial research on the software and services used by providers and payers worldwide. Every year, KLAS collects evaluations from healthcare providers to rank vendors across several categories.
KLAS President Adam Gale says, "Category Leaders are committed to providing the very best technology, service and guidance to providers and payers. The Category Leader Award carries with it the voice of thousands of providers and payers, highlighting outstanding vendors who have raised the bar."
For 2019, Dolbey is honored to announce that KLAS has ranked its software as #1 Category Leader for Speech Recognition — Front-End Imaging and #1 Category Leader for Computer-Assisted Coding in the 2019 Best in KLAS: Software & Services Report. Additionally, Dolbey was ranked by KLAS #1 in 2018 for Speech Recognition — Front-End Imaging, and #1 in 2017 and 2018 for Computer-Assisted Coding.
"The announcement and award come from KLAS Research, but it is based on feedback and reviews from our customers, our partners," states Kris Wilson, President of Dolbey. "The recognition of a job well done by our customers is truly meaningful and appreciated."
John Dolbey, Vice President of Dolbey, states, "This recognition from KLAS will serve as great motivation for all Dolbey associates to continue to put our customers at the center of every effort."
For more information or a demonstration, see Dolbey at HIMSS Booth #4649.
Visit KLAS' Computer Assisted Coding or  Speech Recognition: Front-End Imaging market segments for a complete view.
2017- 2019 Best in KLAS: Software and Services reports, January, © KLAS 2019.
About Dolbey
Dolbey's award-winning healthcare suite of solutions improve productivity while delivering better documentation, improving patient care. Since 1914, Dolbey has consistently evolved its products, incorporating the latest technologies available to meet the demands of the healthcare community. Today, Dolbey's suite of products includes Speech Recognition (premise or cloud-based), CAPD, CDI, CAC, transcription and dictation.
About KLAS
KLAS is a data-driven company on a mission to improve the world's healthcare by enabling provider and payer voices to be heard and counted. Working with thousands of healthcare professionals, KLAS collects insights on software, services and medical equipment to deliver reports, trending data and statistical overviews. KLAS data is accurate, honest and impartial. The research directly reflects the voice of healthcare professionals and acts as a catalyst for improving vendor performance. To learn more about KLAS and the insights it provides, visit www.klasresearch.com
For further information, please contact Traci Miller, Marketing Executive, at 800-878-7828 ext. 119 and tmiller@dolbey.com.