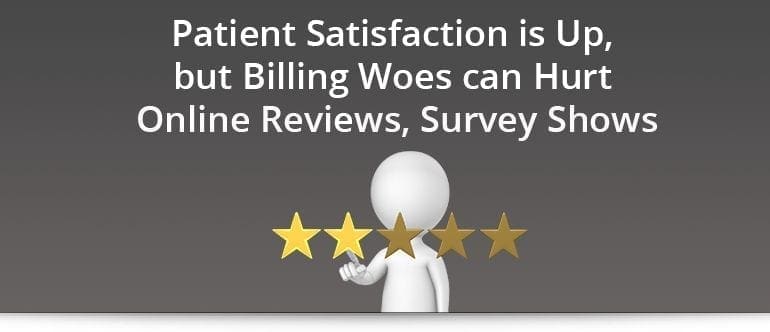 By Meg Bryant for Healthcare Dive
Dive Brief:
Front-office issues like billing and scheduling can have a big effect on how patients view their medical encounters and how they review them online — and providers would be wise to take heed. That's the takeaway from Connance's 2018 Consumer Impact Survey.
The predictive analytics firms surveyed 500 consumers about their most recent hospital experience, including satisfaction with the billing process, and the likelihood they would use a facility again or recommend it to others.
Among patients whose payment responsibility exceeded expectations, just 35% said the business office contacted them ahead of treatment to provide an estimate. Of those who weren't engaged prior to treatment, more than half with larger balances said they wish they had been.
Dive Insight:
As more people rate their medical experiences online, hospitals and physicians are looking for new ways to engage with patients and increase the likelihood of positive reviews. A recent Binary Foundation survey found that slightly more than half of consumers share their experiences with providers on social media or online review sites, and 70% are swayed by personal online accounts in choosing a doctor or hospital.
One issue that can lead to negative ratings and reviews is out-of-pocket costs and surprise medical bills. More than half of patients said out-of-pocket costs would have a significant or highly significant impact on their choice of provider. And those who were dissatisfied with their billing experience indicated less willingness to pay the final charges.
Interestingly, patients believe their insurance company more than their provider when it comes to medical expenses. More than half of respondents (53%) said their payer is more reliable for estimates of balance due. The survey also provides insight into generational differences in financial engagement. For example, younger patients prefer to pay bills via online portals or by credit card over the phone, while older consumers prefer receiving and paying bills through the mail. Younger people are also more likely to seek a friend's help in understanding a bill, suggesting an opportunity for more provider education and engagement, according to the report.
Overall, the news is good, though. Patients' net promoter score for hospitals they visited increased to 22.6%, up from 18.4% in 2017 — suggesting providers are finding ways to engage consumers more effectively than in the past. Younger patients, in particular, are open to more interactive experiences using digital technologies.
"The unfolding transformation of healthcare is daunting and complex, but as this survey shows, also filled with sizable opportunities to improve and reshape the relationship between providers and consumers," Steve Levin, executive vice president of strategic alliances at Connance, said in a statement. "It is our job to listen and act."