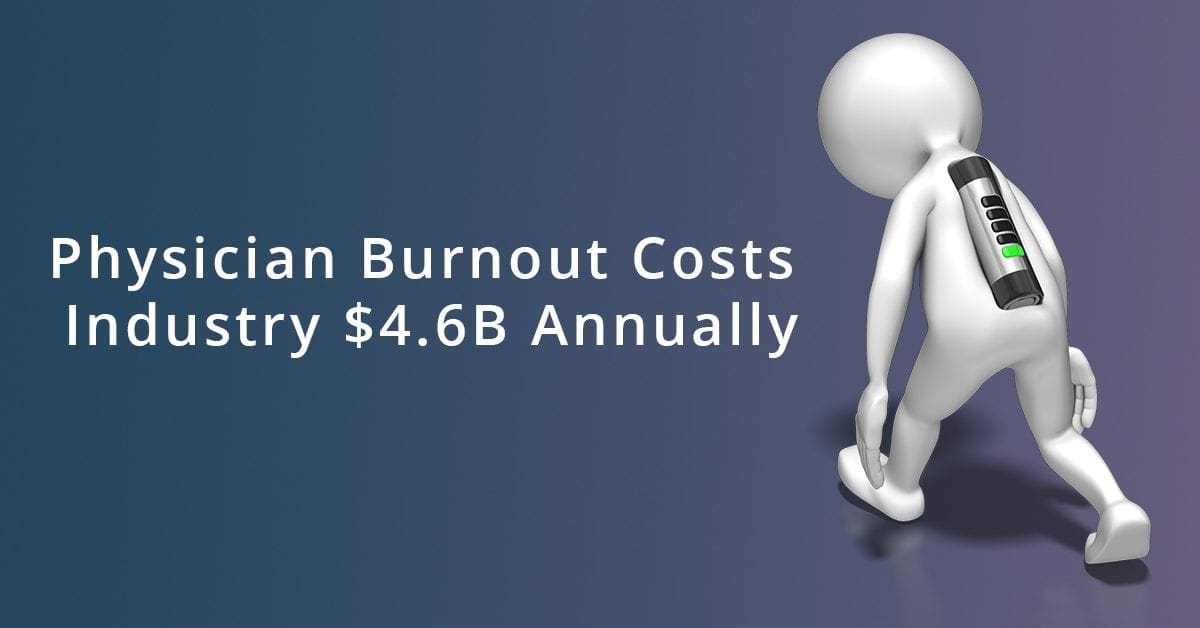 By Rebecca Pifer for Healthcare Dive
Dive Brief:
Physician burnout costs the healthcare industry between $2.6 billion and $6.3 billion each year, according to a new study published in the Annals of Internal Medicine. The researchers calculated a baseline of about $4.6 billion in costs from turnover, reduced productivity and other burnout-related factors.
The study published Monday also found each employed physician leads to about $7,600 in annual burnout costs for their facilities, but the costs can range between $3,700 to $11,000 per physician, depending on how the factors are weighted in the analysis.
These findings, along with previous evidence that facility organization and other relatively cut-and-dried fixes can reduce burnout, suggest "substantial economic value" for providers to invest time and funds into ways to reduce stress on their doctors, according to the study.
Dive Insight:
The economic burden of physician burnout is less clear than its negative effect on doctors and practices through worsening clinician well-being and work-life balance, heightened administrative loads and poorer quality of care for patients.
Burnout, or long-term stress resulting in a sense of depersonalization, low accomplishment and emotional exhaustion for the physician, is the result of many industry factors.
Rampant consolidation causing upheaval in practice structure and routines, the increasing prevalence of EHRs that can drain doctors' time and energy and take focus away from the patient, bureaucratic demands like charting and paperwork, and policy regulations and legislative changes creating more red tape for clinicians are all contributing elements.
This new study adds to the evidence that burnout is not just damaging to physicians and patients — it's also hard on a practice's bottom line. And the $4.6 billion price tag didn't take into account the many burnout-related costs that are harder to quantify like indirect lost revenue, loss of reputation, disruption to patients and the care team or less favorable contracting with payers, researchers say.
The study's burnout cost estimate is significantly lower than previous ones. According to a 2018 healthcare task force report, burnout can cost hospitals and health systems alone as much as $1.7 billion a year. Burnout-related physician turnover costs up to $17 billion annually. Nurse burnout costs an additional $9 billion for hospitals annually and costs the entire healthcare system $14 billion each year.
Tallies vary, but experts estimate about half of physicians suffer from burnout (an early 2018 Medscape study put the figure at almost two-thirds). According to an American Medical Association study, 44% of U.S. physicians reported at least one symptom of burnout in 2017, down from 2014's peak of 54%.
Although burnout is a perennial problem, it seems to affect some doctors more than others. There's evidence female physicians are more likely to suffer from burnout, along with caregivers at larger, hospital-affiliated practices.
And, although healthcare positions are desirable because of their high salaries and generally stable job security, clinician advocates worry burnout is likely to grow, given an aging patient population that is expected to increase physician workload in tandem with a doctor shortage expected to reach more than 121,000 by 2030.
However, there's evidence burnout can be reduced without requiring a heavy level of investment. Doctors who feel in control of their environment and their workflow are less likely to experience burnout, according to a July 2018 analysis. Organizations should prioritize a human-centered culture, including flexible work schedules and peer-to-peer support along with querying clinical teams before and after deploying new technologies or workflow to make sure they don't further stress caregivers.
Some providers, such as Cleveland Clinic, the Icahn School of Medicine at Mount Sinai and Stanford Medicine, have appointed chief wellness officers in recent months in an attempt to ameliorate the burnout problem.