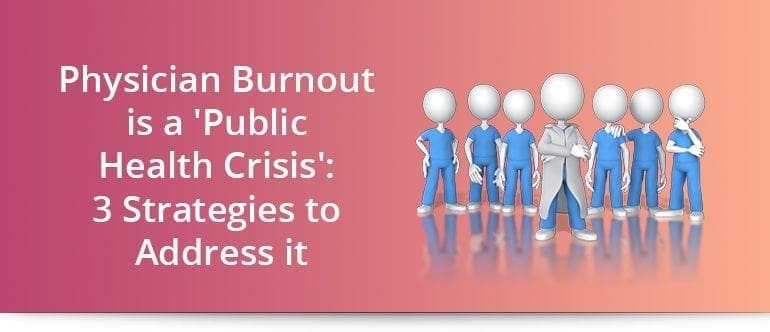 By Jessica Kim Cohen for Becker's Hospital Review
Physician burnout is a public health issue that "urgently demands action" from the rest of the healthcare industry, according to a report from Harvard University and Massachusetts trade groups.
The Harvard T.H. Chan School of Public Health in Boston, Harvard Global Health Institute in Cambridge, Mass., Massachusetts Medical Society and Massachusetts Health and Hospital Association partnered to develop the report, titled "A Crisis in Health Care: A Call to Action on Physician Burnout."
For the report, the organizations reviewed recent research on physician burnout and its consequences, as well as analyzed results of an informal survey of Massachusetts physicians at different stages of their careers, from medical students to senior practitioners.
The report outlines the state of physician burnout today and how healthcare stakeholders — such as hospitals, medical schools, EHR vendors, insurers and federal agencies — can work to fix the issue.
"We believe that physician burnout is a public health crisis, an assessment that has been echoed by others in both major medical journals and in the lay press," the report reads. "Driven by experience and the mountainous body of evidence on the causes and impacts of physician burnout, this report is a call to action to begin to turn the tide before the consequences grow still more severe."
Three recommendations to address physician burnout, as outlined in the report:
1. Support proactive mental health treatment for physicians experiencing burnout. "Physicians face stigma and professional obstacles to seeking appropriate care and treatment for burnout and related mental health concerns. Physician institutions — including physician associations, hospitals and licensing bodies — should take deliberate steps to facilitate appropriate treatment and support without stigma or unnecessary constraints on physicians' ability to practice."
2. Improve EHR standards with strong focus on usability and open application programming interfaces. "A major course correction to reduce physicians' burden of documentation is now overdue … One promising solution would be to permit software developers to develop a range of apps that can operate with most, if not all, certified EHR systems. This concept is similar to how the Apple and Google app stores can deliver an immense array of functionality on millions of different mobile devices according to user preferences."
3. Appoint executive-level chief wellness officers at healthcare organizations. "Effective CWOs will be senior, full- or part-time executives. Successful solutions will be tailored to the unique features of each healthcare organization, including patient population, human resources, specialization and many other factors. As such, successful interventions require senior, visible leadership equipped with a mandate and authority to work systemically across departments, portfolios and other silos."