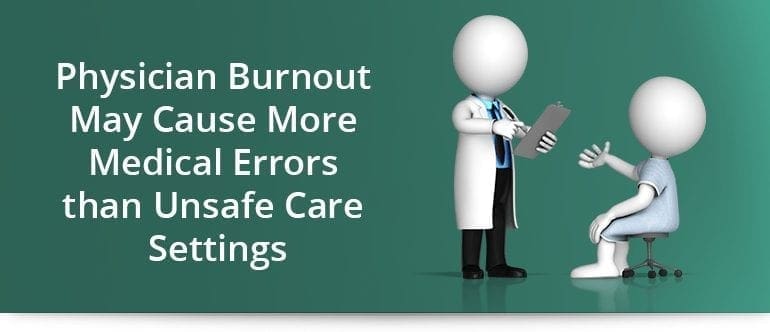 By Megan Knowles for Becker's Hospital Review
Physicians experiencing burnout were more likely to report medical errors — and burnout may be to blame for more errors than unsafe workplace conditions, a study published in Mayo Clinic Proceedings found.
"If we are trying to maximize the safety and quality of medical care, we must address the factors in the work environment that lead to burnout among our healthcare providers," said senior study author Tait Shanafelt, MD. "Many system-level changes have been implemented to improve safety for patients in our medical workplaces. What we find in this study is that physician burnout levels appear to be equally, if not more, important than the work unit safety score to the risk of medical errors occurring."
To explore the relationship between physician burnout and medical errors, the researchers distributed surveys to physicians who actively practice across the U.S.
Of the 6,695 respondents, 3,574 — 55 percent — said they experienced burnout symptoms. Additionally, 10 percent of physicians said they made at least one major medical error during the prior three months.
The researchers also asked physicians to rank safety levels in the hospitals or clinics where they worked using a standardized question to assess work unit safety.
"We found that physicians with burnout had more than twice the odds of self-reported medical error, after adjusting for specialty, work hours, fatigue and work unit safety rating," said lead author Daniel Tawfik, MD. "We also found that low safety grades in work units were associated with three to four times the odds of medical error."
Dr. Shanafelt highlighted how these findings show physician burnout also influences care quality, patient safety, turnover rates and patient satisfaction. "This [study] indicates both the burnout level as well as work unit safety characteristics are independently related to the risk of errors."
In medical work units, the study found rates of medical errors tripled — even in facilities with high safety rankings — if physicians in the unit reported high levels of burnout. This finding indicates burnout may be an even a bigger cause of medical error than a poor safety environment, Dr. Tawfik said.