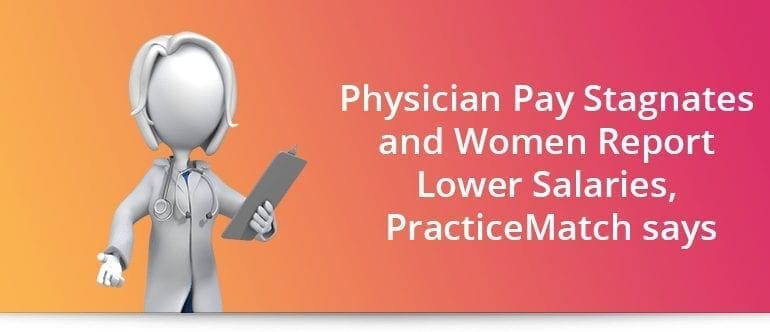 By Beth Jones Sanborn for Healthcare Finance
The largest increase from 2016 to 2017 attributed to Emergency Medicine, a specialty that saw nearly five percent growth.
What Happened 
PracticeMatch's annual physician survey showed physician pay has stagnated, female doctors are still being paid less than their male colleagues. That said, among both genders overall job satisfaction is high, with more than half of physician respondents reporting being "very" or "extremely" satisfied with their current position. Participants were geographically diverse and represented various hospital and office practice settings.
Why it Matters
The news of overall high job satisfaction is especially promising considering looming physician shortages, especially in primary care and family medicine. Widespread reporting of high burnout rates would also seem to jeopardize the ranks of physicians, so reports of job satisfaction offer some comfort.
The Broader Trend
Physicians across most specialties reported that average annual income stayed flat over the previous year, with the largest increase from 2016 to 2017 attributed to emergency medicine, a specialty that saw nearly five percent growth. That meant an average annual income of $321,398 in this year's survey, compared to $306,389 last year. Pulmonary medicine saw a two percent increase in average annual income coming out to $286,813. Pediatricians reported an increase of about two percent as well, or $4,000 increase, to $198,306.
Cardiology, family medicine, and hospitalists also stayed relatively flat with fluctuations within just $2,000. Only one-third of physicians reported earning more in 2017 than they did in 2016.
Female physicians made up 35 percent of this year's 1,218 respondents and reported lower satisfaction rates with their pay and careers than their male colleagues. While 53 percent of male physicians said they were extremely or very satisfied with their jobs, only 44 percent of female doctors reported the same. While 32 percent of male physicians said they were very or extremely satisfied with their pay, that number dropped to 27 for females. Finally, 27 percent of female doctors said they were "very dissatisfied" with their pay compared to only 18 percent of their male colleagues.
Nearly one-third of physicians surveyed also report having an outstanding student loan balance in 2017, similar to last year.
On the Record 
PracticeMatch CEO Mike York: "Compensation is always a key driving factor for physicians when deciding on a practice opportunity. Therefore, it's vital for employers to offer an attractive physician compensation package in today's highly competitive physician recruiting environment."
Our Take
Physician shortages are mounting and are slated to hit at least in the tens of thousands by 2030 — if not sooner. Alarming rates of fatigue, overworking and burnout are emerging and those can lead to patient safety problems.
Since healthcare leaders struggle to attract talent, compensation is certainly one way to do so. Knowing the norms is key to exceeding expectations.
While providers are coming up with innovative ways to reduce burnout, another practice with potential is training doctors in emotional intelligence, which in a study conducted by Loyola Medicine that was published Monday, was shown to protect against stress and burnout.
It is also important to know how to retain talent, so while a high paycheck or nice signing bonus may bring doctors inside the hospital door, executives should understand what keeps employees from walking out those same doors a year or two later. Wellness programs, flexible schedules, a comfortable lounge and sleeping area for long or consecutive shifts and programs to thwart burnout could help ease the burnout problem.