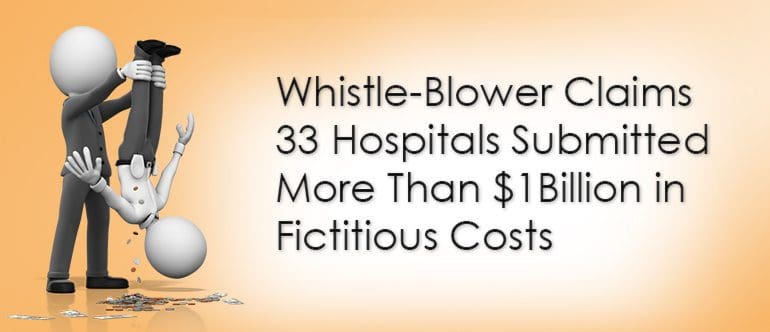 By Ayla Ellison for Becker's Hospital Review
A whistle-blower recently defended the viability of a federal complaint he filed, saying 33 hospitals in North Carolina, South Carolina and Georgia benefited from fictitious cost report claims submitted to Medicare and Medicaid.
The whistle-blower, Joseph Vincoli, first brought suit against Charlotte, N.C.-based Carolinas HealthCare System and North Carolina Baptist Hospital in Winston-Salem in 2009. Mr. Vincoli, a former manager at N.C. Baptist, claimed the organizations overstated costs by using MedCost — a company they co-own — to provide health benefits to employees. He alleged the healthcare providers artificially inflated their expenses to fraudulently obtain tens of millions of dollars from Medicare and Medicaid.
The Department of Justice considered joining the lawsuit but bowed out in September. The Department of Labor also investigated Carolinas HealthCare. It ended its probe in January, but reserved the right to bring legal action against the system in the future.
After the government decided not to take enforcement action, Mr. Vincoli raised the financial stakes in his second amended complaint filed Feb. 4. He claims N.C. Baptist and Carolinas HealthCare violated the False Claims Act by "failing to disclose on their Medicare cost reports more than a billion dollars in related-party transactions and by falsely claiming more than a billion dollars in fictitious costs for employee healthcare benefits that were not actually out-of-pocket cost."
In April, N.C. Baptist and Carolinas HealthCare asked the court to dismiss Mr. Vincoli's second amended complaint. In their dismissal requests, they cited "fundamental deficiencies" in the complaint.
In response, Mr. Vincoli provided additional details about how N.C. Baptist and Carolinas HealthCare allegedly collected improper payments. He also claims the inflated benefit expenses allowed other hospitals in the region to collect additional reimbursement based on the Medicare Wage Index.
Medicare reimbursement rates include — as part of the overall reimbursement formula — a component reflecting the average wage index for the pertinent geographic area. The false cost reports allegedly submitted by N.C. Baptist and Carolinas HealthCare artificially increased the wage index in their geographic areas, according to Mr. Vincoli
Mr. Vincoli submitted a list of 33 hospitals he claims overstated costs by a total of $1.01 billion. Except for N.C. Baptist Hospital, they are all affiliated with Carolinas HealthCare.
1. Alamance Regional Medical Center (Burlington, N.C.) — $10.88 million
2. AnMed Health (Anderson, N.C.) — $49.53 million
3. AnMed Health Rehabilitation Hospital (Anderson, N.C.) — $1.88 million
4. Anson Community Hospital (Wadesboro, N.C.) — $7 million.
5. Blue Ridge Healthcare Hospitals (Morganton, N.C.) — $19.42 million
6. Carolinas Medical Center (Charlotte, N.C.) — $273.06 million
7. Carolinas Medical Center-Lincoln (Lincolnton, N.C.) — $15.88 million
8. Carolinas Medical Center-Mercy (Charlotte, N.C.) —$48.58 million
9. Carolinas Medical Center-University (Charlotte, N.C.) — $23.3 million
10. Charles A. Cannon Memorial Hospital (Linville, N.C.) — $1.5 million
11. Charlotte (N.C.) Institute of Rehabilitation — $15.69 million
12. Cleveland Regional Medical Center (Shelby) — $36.99 million
13. Columbus County Hospital (Whiteville, N.C.) — $10.74 million
14. Crawley Memorial Hospital (Boiling Springs, N.C.) — $1.28 million
15. Elbert Memorial Hospital (Elberton, Ga.) — $154,262
16. Harris Regional Hospital (Sylva, N.C.) — $6.27 million
17. Haywood Regional Medical Center (Clyde, N.C.) — $7.74 million
18. Kings Mountain (N.C.) Hospital — $7.81 million
19. Moses H. Cone Memorial Hospital (Greensboro, N.C.) — $26.98 million
20. Murphy (N.C.) Medical Center — $4.7 million
21. North Carolina Baptist Hospital (Winston-Salem, N.C.) — $179.18 million
22. Northeast Medical Center (Concord, N.C.) — $72.34 million
23. Roper Hospital (Charleston, S.C.) — $67.05 million
24. Roper St. Francis Mt Pleasant (S.C.) Hospital — $3.74 million
25. Scotland Memorial Hospital (Laurinburg, N.C.) — $13.44 million
26. St. Francis Xavier Bon Secours (Charleston, S.C.) — $26.44 million
27. St. Luke's Hospital (Columbus, N.C.) — $3.98 million
28. Stanly Memorial Hospital (Albemarle, N.C.) — $12.02 million
29. Swain County Hospital (Bryson City, N.C.) — $929,533
30. Union Regional Medical Center (Monroe, N.C.) — $39.02 million
31. Valdese (N.C.) General Hospital — $7.44 million
32. Wallace Thomson Hospital (Union, S.C.) — $7.63 million
33. Wilkes Regional Medical Center (Wilkesboro, N.C.) — $9.99 million
Mr. Vincoli's second amended complaint is pending in U.S. District Court for the Middle District of North Carolina.