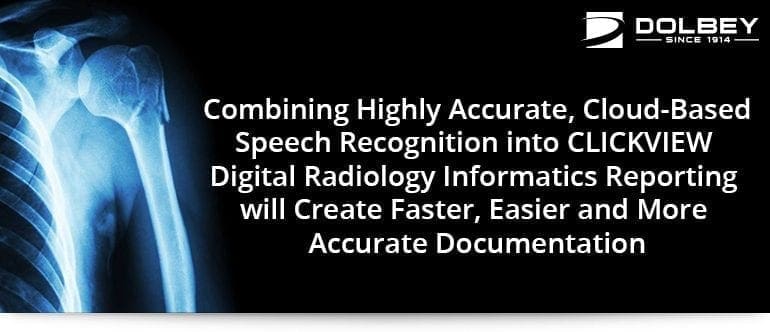 Dolbey and Company Inc. (Dolbey) Best in KLAS for Speech Recognition 2012-2016 and Category Leader – Front-end Speech Recognition for Imaging 2018 announced today that they have partnered with CLICKVIEW the leading provider of Digital Radiology Informatics reporting with Dolbey's cloud-based speech recognition solution, Fusion Narrate™ powered by nVoq™.
This partnership provides CLICKVIEW the ability to offer integrated speech recognition in their innovative radiology reporting products.  The combination of speech recognition, AI technology and powerful navigation tools provided by the Fusion Narrate application bring radiology reporting efficiencies to a whole new level.
"We are excited to partner with CLICKVIEW, which offers the most robust Digital Radiology Informatics reporting in the industry," said Bob Leslie, senior vice president and general manager for Dolbey. "This partnership will give physicians the tools for clearer, faster communication to referring physicians along with their patients".
"The CLICKVIEW Team welcomes Dolbey in an exciting, game-changing partnership providing the most intuitive, innovative reporting products in the industry," said David A. Martinez, MD, MPP, CEO and Founder of CLICKVIEW. Integration of Dolbey's cloud-based Fusion Narrate speech recognition solution with CLICKVIEW's broad portfolio of established Web-based reporting products improves the quality of patient care while also greatly improving the accuracy, efficiency and ease reporting for the radiologist.
About Dolbey
Dolbey and Company's award-winning healthcare solutions deliver superior documentation, boosting productivity and improving patient care. Since 1914, Dolbey has advanced the latest technologies to meet the evolving demands of the healthcare community, including Speech Recognition, CAPD, CDI, CAC, Transcription and Dictation. For more information, please visit www.dolbey.com.
About CLICKVIEW
CLICKVIEW Corporation is the leading provider of Digital Radiology Informatics Reporting Products. CLICKVIEW modules include Obstetrics, Gynecology and Vascular reporting. The modules for surveillance of Chronic Lesions include Thyroid Nodule Surveillance, Bone Density, Aortic Aneurysms, Single Pulmonary Nodules and RANO (Response Assessment Neuro Oncology). CLICKVIEW Corporation is based in San Francisco, CA and has developed, sold and supported Radiology reporting products for 30 years.