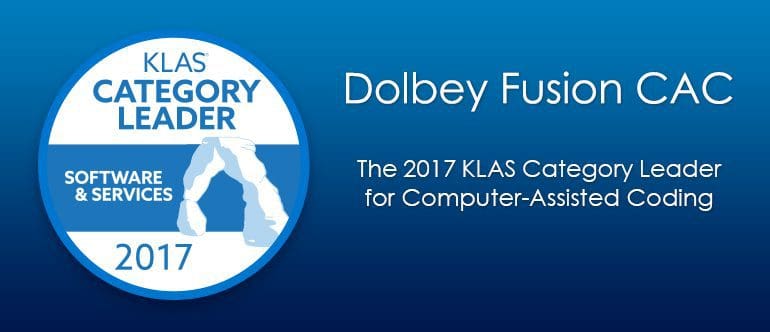 CONCORD, OH – February 7, 2017
CONCORD, Ohio — Dolbey has earned the 2017 Category Leader award from KLAS, the leading health care research company. Every year, KLAS collects evaluations from health care providers regarding the technology and services they use. From those evaluations, KLAS ranks the best of the best across many categories. Dolbey's Fusion CAC ranked highest in the Computer-Assisted Coding category.
Dolbey's Fusion CAC is deployed in the medical coding process. Dolbey's software evaluates patient notes and other documentation to suggest diagnostic and medical procedure codes for billing and reimbursement. Dolbey Fusion CAC promotes faster, more accurate coding that results in a healthier revenue cycle.
"We've enjoyed being recognized by our customers and KLAS for several years," states Kris Wilson, President of Dolbey Systems. "Our speech recognition solutions were Best in KLAS four years in a row and from that we learned how powerful the customer's voice really is.  Winning the award is special to many people in our organization but what it really means to me is that we are delivering value to our customers. Thank you to KLAS for the award and thank you to all the associates at Dolbey who made this happen."
In addition to earning this Category Leader award from KLAS, the organization earlier identified Dolbey's Fusion CAC as delivering the fastest value with ICD-10, which stands for the International Classification of Disease, tenth revision, a massive medical coding update that went live in the United States in late 2015.
About Dolbey
Dolbey's award winning healthcare suite of solutions improve productivity while delivering better documentation for coding and billing, and they offer a flexible workflow for physicians with dictation or speech recognition, powerful computer-assisted coding, CDI and Core Measures abstraction and reporting. You can experience more accurate documentation, healthier patients and better revenue cycle with Dolbey. Learn more at HIMSS Booth #2934.
About KLAS
KLAS is a research firm on a global mission to improve healthcare delivery by enabling providers to be heard and counted. Working with thousands of healthcare professionals and clinicians, KLAS gathers data on software, services and medical equipment to deliver timely reports, trends and statistical overviews. The research directly represents the provider voice and acts as a catalyst for improving vendor performance. To learn more about KLAS and our reports, visit www.KLASresearch.com.
For further information, please contact:
Traci Miller, Marketing Executive
800-878-7828 x119/tmiller@dolbey.com
www.dolbey.com