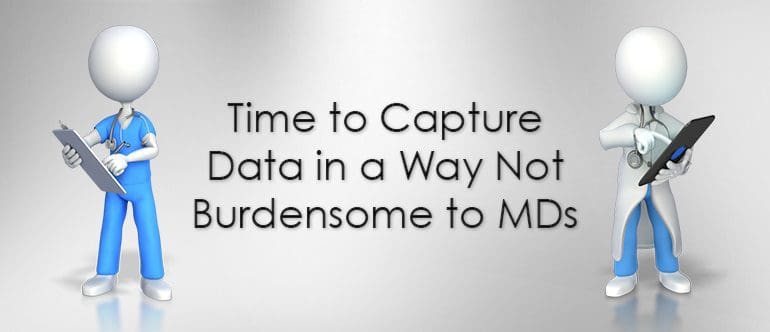 By Mark Hagland for HCI | Healthcare Informatics
Rush University Medical Center CMIO Brian Patty, M.D., shares his perspectives on physician documentation reform
As the implementation of electronic health records (EHRs) has moved towards universalization, one of the unfortunate unintended consequences of the rapid shift to electronic form for patient records has been that of "note bloat"—the electronic agglutination of physician notes and other data, clogging the EHR with overly much content, often poorly organized, leading to physician frustration and even potentially, medical errors.
With physician documentation reform advancing now in U.S. healthcare, that phenomenon was identified by the editors of Healthcare Informatics as one the publication's Top Ten Tech Trends this year. The article on that Trend appeared in the March/April issue of the magazine, as well as online here.
One of the industry leaders interviewed for that Trend article was Brian Patty, M.D., vice president and CMIO at Rush University Medical Center, in Chicago. Below are excerpts from HCI Editor-in-Chief Mark Hagland's interview with Dr. Patty earlier this spring on this subject.
When you think about the need for physician documentation reform, what thoughts come to you first?
When I look at this, what I see is that not everything needs to be documented by the physician. And the care team note should build throughout the visit. Let's take a primary care visit: the patient shares information at the beginning, the patient sees a nurse and then a physician, and possibly others. And the primary element is the assessment and plan, for physicians to document. So that takes the burden off the physician for documenting for certain kinds of documentation capture on behalf of outside sources.
We need as much as possible to capture that reportable data in a way that's not burdening the physician. And we need to capture that data so that the physician note is captured over the course of the visit, so that not everything is the burden of the physician. And we need to use NLP [natural language processing] to capture discrete elements out of a prose note. That will allow the physician to get back to dictating a note, whether using voice recognition or transcription, but being able to dictate a note that is clinically meaningful and concise, and these data elements are pulled out of that note and fed into various reporting requirements.
There's too much data burden on physicians, and their notes become either too clotted, or you lose the patient narrative, because all the notes look alike. And the key clinical elements that are need get lost in the forest of other data.
Do you believe that the Open Notes movement and consumerism will push this along?
Yes, I do believe that. Physicians are going to know that patients will be reading their notes, so they'll be a little more cognizant of writing better notes. We are now releasing our notes to patients through MyChart. So I believe that the notes will be more readable and coherent. We started doing that [in early February], with our update to Epic. So it's long overdue that we start giving patients freer access to their medical records, so they can go home and update. Sometimes, patients forget what their physician actually said. Now they can open their computer at home and see this and have things validated.
What concrete things do CIOs and especially CMIOs, need to do, then?
I think it comes down to as we're designing note templates, that the data we're capturing is really captured by the provider; but at the same time, let's ask ourselves, can some of this data be captured upstream by another care team member? So not everything has to be captured in the physician note? A lot of things could be captured by non-physicians, and maybe validated by the physician. As we look at the various data elements that we need to capture and report for meaningful use, for pay for performance contracts, or whatever, let's make sure that we're capturing those at the appropriate level, and leveraging the entire care team, and not just always by default, putting it all on the physician to capture that data.
Are the core EHRs beginning to become more physician-friendly now?
I think all the EHR vendors have heard this loud and clear [regarding the need to be more physician user-friendly]. Their EHRs need to be better, and more end-user-friendly, not just for physicians, but for nurses and respiratory therapists as well, and for everyone. And all of the EHRs need to be better designed in terms of clinician workflow. But it's a shared problem between us and CMIOs and the EHR teams at our sites, because 40 percent of the workflow still has to be built. But I agree, there's no nirvana workflow out there, and all could be improved. But we're an Epic shop, and the latest update includes "fast lanes," and the physicians like them. Fast lanes are common problems physicians see over and over, and they've significantly simplified the workflow and documentation for those areas. And they've been on a week and a half, but I'm hearing good things from providers, because it does speed up their time on documentation completion. I'm sure other vendors are working on this, too.