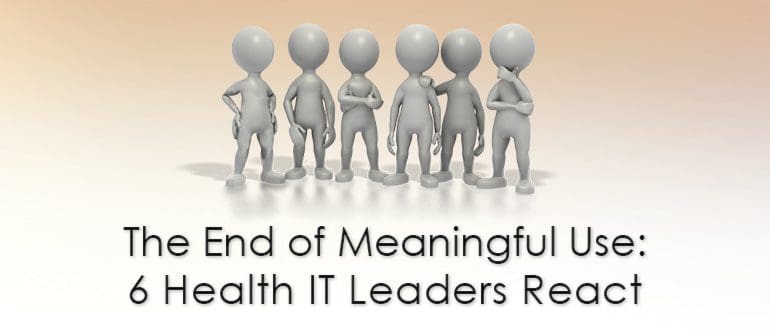 By Akanksha Jayanthi and Max Green for Becker's Health IT & CIO Review
January 15, 2016
While CMS Acting Administrator Andy Slavitt's announcement of the end of meaningful use was met with a collective sigh of relief from the healthcare industry, questions, concerns and expectations regarding the future remain.
Though frustrating, many IT leaders do feel meaningful use was beneficial for IT adoption. Now, the industry must focus on next steps to further leverage technology to improve outcomes.
Here, six IT leaders offer their thoughts and reactions to the end of meaningful use and hypothesize what is next for health IT.
Note: Answers have been lightly edited for length and clarity.
Matt Adams, Healthcare IT Analyst, MD Buyline: "[Meaningful use is] going to be shaped differently with everything we've been talking about in 2015 and we'll hear in 2016. With the ONC's report that came out early December on interoperability, this year they're going to be pushing vendors quite hard to integrate their systems or build easier integrated systems. It's the reboot of MU. I think that unfortunately for some of the hospitals there's going to be some spending that's done to try and find out where they can reallocate those dollars. Or is there an ROI? If I just met stage 1 and stage 2, where are my dollars?
There obviously are going to be a lot more consulting gigs, a lot more folks that are going to be analyzing the structure of what the new meaningful use will be and then applying that to the facility. With population health and value-based purchasing, vendors are going to be adding and tweaking applications, so I expect to see more purchases for those upgrades and those applications."
Michael Archuleta, Director of IT, Mt. San Rafael Hospital (Trinidad, Colo.): "Meaningful use has had a real huge impact on the adoption of health IT, especially in these critical access hospitals. If we wouldn't have had the incentives to basically fund all these EMR systems coming into place, we would have never moved forward in the digitization of healthcare.
I don't think meaningful use is ending. CMS has implemented the Merit-Based Incentive Payment System…and meaningful use will be a component of MIPS. What [Mr. Slavitt] did say was [moving] focus away from providers' use of technology and toward outcomes with their patients…Any health IT must be user-centered and for physicians, not to distract them. That's my main focus, and I really say meaningful use is not dead."
Daniel Barchi, CIO, NewYork-Presbyterian: "I think the meaningful use program was good for what it was, and I think it accelerated the adoption of EMRs in the U.S. by 10 to 15 years. I think it's reasonable not to push forward with meaningful use [stage] 3; a lot has been accomplished with meaningful use stage 1 and 2. I think there are areas like interoperability where we should shift our attention. A lot of the meaningful use metrics were focused on us achieving internal benchmarks and improving our care, all of which is really important and has been helpful. But I think we should hold ourselves as an industry and as vendors and as healthcare providers to a higher standard for making sure that patient data flows smoothly from one system to another."
John Hoffstatter, Director of Clinical and Operations Strategy, Computer Task Group: "The recent comments from [Mr. Slavitt] regarding the meaningful use program certainly suggest a pending announcement coming soon. While it is not typical for CMS to comment on future program changes in such an informal manner, it is encouraging to see CMS is responding to the ongoing pressures to revamp the MU program. The details to combine various quality incentive programs under MIPS by 2018 as directed in the MACRA legislation are still being defined and anxiously awaited.
The movement of meaningful use objectives and the emphasis on interoperability has been projected by CMS in the past, but we certainly hope the timing, details and alignment are more outcomes-based and offer some long overdue relief to the burdening qualities requirements physicians continually face on a daily basis.
It would be a welcome change to make meaningful use more meaningful."
Aaron Miri, CIO, Walnut Hill Medical Center (Dallas): "Walnut Hill and the hospital and healthcare community have benefited greatly from meaningful use. As with any large program rollout there were some early opportunities that were recognized later and were corrected. It has done a great service to the community. CHIME and HIMSS and other organizations have been very supportive of it, and it's gravitated and driven the industry forward. It's been the right thing to do in retrospect.
Going forward, my initial reaction when I heard was that I wasn't surprised. ONC and CMS have been indicating for some time that it's about the patient, it's about the quality and taking it to the next level. The time is right to sunset the word and program of "meaningful use" and go toward something bigger and greater. My personal hope is it's something around meaningful experience that continues to put the patient at the center and look at everything from quality to engagement to customer services and all different aspects of the patient experience as being the primary driver."
Marc Probst, CIO, Intermountain Healthcare (Salt Lake City): "I think it's been a tremendous program from the perspective of getting people using EMRs and collecting digital data. It really has moved us forward six to eight years in getting that done so much more quickly. From that perspective, we should claim a victory. I'm not sure that the amount of money we spent to do it was worth it, but if you want to look at it as glass half-full, we got a lot of systems out there.
The negative side of it is we didn't put standards in place, we didn't focus on interoperability. We didn't do things that cost a lot more money but were a lot less glamorous and would have provided more value to our country. The fact that the program could potentially end I find incredibly satisfying because this gradual increase of functionality approach is just not proactive. It's not fostering innovation. It was entirely too proscriptive. I like the discussion around talking more about outcomes, about what can we do to improve healthcare and lower costs.
I don't think we need the government to force the issue of interoperability. If we see interoperability as something of value to our patients and to our communities and the way that we provide care, we're going to put energy into it. We've done that at Intermountain for years through all of our discussions around standards. I think the healthcare community will solve it, and it may not be complete interoperability; it may be that we decide what is the most important information to share and do that, but the government's approach has been naive.
I'm hopeful the government will stop being proscriptive around things like functionality and what they'll do is reward people for better outcomes, whether quality or costs or both. I think that's the direction we're headed and I think is going to be very positive."