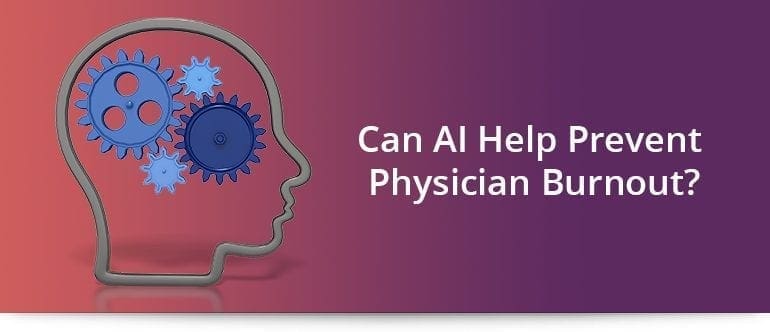 By Jordan Rosenfeld for Modern Economics
So much of a physician's workload includes repetitive, tedious tasks involved in researching diagnoses and analyzing patient data and imaging. On top of increasingly demanding administrative and regulatory burdens and EHR hassles, it's no wonder physicians are burning out in record numbers.
Experts in artificial intelligence (AI)—a form of machine learning in which computers can be trained to recognize patterns in large swaths of data—are hopeful that AI will be a key part of reducing physicians burdens and saving them time and energy.
"We live in an age where a lot more data can be generated than a physician can really analyze," says Mark Lambrecht, PhD, director of the global health and life sciences department at SAS, a North-Carolina based company that provides data analytics services to healthcare providers and payers.
He believes that AI can help. "Studies have shown that AI can help physicians reduce the time they have their hands on the keyboard," Lambrecht says. "They do this by capturing the data automatically, making sense of it, providing content, and making sure the data is put in the right field."
Lambrecht cites another example of how AI can help physicians who have patients with type one diabetes. "There are pens that can measure glucose values every minute. Lots of physicians are not able to interpret that data, so we have techniques in AI to help that interpretation, to see if a patient is stable or unstable."
AI is already improving workflow for radiologists, according to Tarik Alkasab, MD, PhD, service chief for informatics, IT and operations at Massachusetts General Hospital in Boston. Before the introduction of AI, in order for a radiologist to interpret an x-ray, they'd have to flip through a book full of hundreds of images and manually find the best match for their x-ray.
Now, with AI, he says, Mass General is incorporating a system that automatically detects the best match, and then shows that to the radiologist along with some neighboring ones. "The tedious task of finding the book and flipping through it to find the right information is not something the radiologist has to do anymore."
Alkasab feels that two of the reasons for physician burnout are related to "hunt and search" tasks and the documentation process, both of which can be improved upon by AI. "[Physicians] will do less of the searching, describing and measuring kinds of tasks, and more of the analyzing, synthesizing, evaluating and planning kinds of tasks. AI is going to be a lot more rewarding and less tedious."
In addition to reducing hassles and tedious tasks for physicians, AI has the potential to save more lives. Lambrecht knows of a hospital where AI is helping to predict whether liver cancer patients need chemotherapy or surgery.
"Physicians will become convinced that it is really a new tool in their toolbox, a very powerful one, that will help them make better decisions for their patients," Lambrecht says.
Some organizations are also using AI-based scheduling programs, particularly where there are a large number of physicians and ancillary staff to keep on a tight schedule. The possibilities and as the technology evolves, Lambrecht is sure the uses for AI will only expand.
For those physicians who are nervous that AI could one day replace them, Lambrecht says that it is highly unlikely. "What AI will do is take out a little bit of that variability that exists in medicine."